When you browse through the Facebook News Feed, you may find many helpful and informative posts, but you may not have the time to read them all at once. In such situations, you can save or bookmark the posts that interest you using the Save feature in Facebook and view them later. Since all of your favorite posts can be accessed in a single click, the feature will save you a lot of time.
1. To bookmark links, posts about places, music, or events on Facebook, log into your account, find the post that you want to save, click the arrow button at the top right of that post, and choose Save.


If you save any post by mistake, you can go to the same menu to unsave it.

2. When you save a post, a new Saved section appears on the left sidebar. You may need to refresh the page to see the section if this is the first time you have used this feature. This is the hub where you can view all of your saved posts.
Like any other sections, you can click on the gear icon to rearrange the section or remove it completely from the list.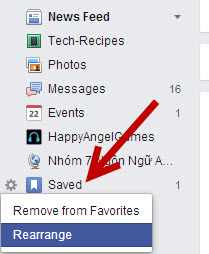 3. The landing section, All, in Saved allows you to view all posts in time order. However, depending on the type of post that you save, the post will also be placed in one of the following sections: links, places, music, books, movies, TV shows or events. There is a number next to every section indicating the number of saves you have in each. This is helpful when you  want to search for specific types of posts.


4. If you no longer want to keep a post in the list, you can remove it by clicking on the X button for that particular post. When you do that, the post will be moved to the Archive section. To delete it completely from Saved, click the dots button -> Delete.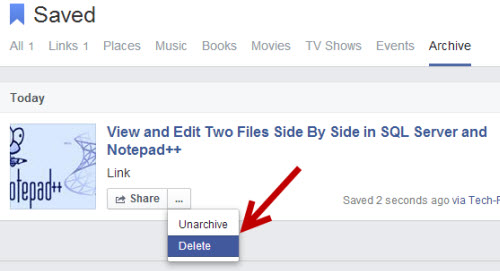 5. If you use the official Facebook app on your phone, you can also save posts by tapping on the Save option in the context menu for each post. If you do not see this feature, please check for Facebook updates from the app store.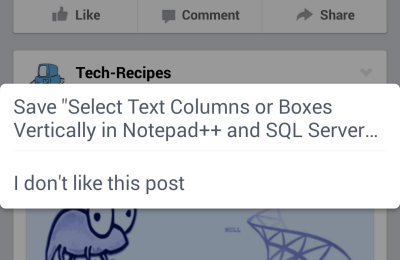 The Saved section is also available on the mobile app. It can be found under More.