Facebook is an amazing platform used for various purposes, Facebook has so many features embedded on it, one of which is the color status. The aim of this post is to guide you on the step by step process of how to post color status on Facebook. 
As time passes, new and eye-catching features are being added to applications to improve and make it more convenient for use. Facebook being one of the biggest and most populated social media platforms cannot be left behind. If you have been an active user on facebook you'd agree with me that the past years have been awesome in the area of updates and upgrades. So many new features have been added to Facebook. 
I could spend a lot of hours, and even day's telling you about the cool features that have been added to Facebook and how to use them. But I think taking it one at a time will be the best option here.
So, back to the main point "how to post color status on Facebook". This feature is one of my favorite Facebook features.
Moving on;
The current version of the Facebook app has the "color status" feature added to it. This new development promotes the application and makes it more interesting to the public. You probably must have come across this while on your Facebook news feed and maybe wondered how your Facebook friends were able to come up with such a theme or feature.
I personally enjoy using the color status on Facebook because posts like that always have a high conversion rate with my friends and followers. The colored background has a way of pulling the attention of the audience to a post and this has a lot of advantages attached to it.
So, how do you post color status on Facebook? 
The first and most important step or guideline to access this feature is to have the latest version of the Facebook app installed either on your Android, Windows or IOS device. If your Facebook version isn't up to date, you won't see this feature on Facebook.
I will use images from an Android device. Don't panic though, you can post color status on Facebook on almost all operating systems.
How To Post Color Status On Facebook
Remember, the first important thing is to ensure that your Facebook application is up to date (running the latest version). This can be done by visiting the Google Play Store or the iTunes store accordingly.
1. Open the Facebook App on your device.
2. Go to your newsfeed.
3. On your status bar, Tap on ''what's on your mind?"  to insert your text.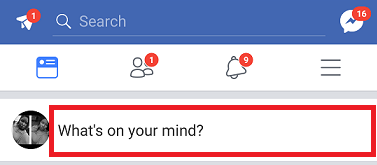 While typing your status, you will notice a layout of colors in a tile format ranging from white, black, pink etc. below the text. These colors indicate the available backgrounds for the status you are typing.
4. When you are done typing, tap on the color of your choice and tap on post to complete.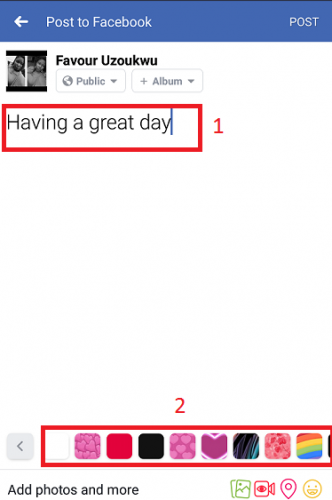 Note: If your text is too long, the colors will vanish, this is because color status on Facebook has a text limit.
So, there you have it, that completes this amazing article on how to post color status on Facebook. If you follow the steps above correctly, you shouldn't have any issue related to posting color status on Facebook.
FREQUENTLY ASKED QUESTIONS AND ANSWERS:
Q: Who Can Change Status Background on Facebook:
A: Android users, iOS and web users including anyone that has access to the facebook app and knows the guidelines can make or change his/her status background.   
Q: Who Can See Colourful Status Backgrounds:
A: Everyone can see your colorful status backgrounds. Those using the updated application and those using an old version can equally see it. Unless you have Facebook privacy activated. 
Q: How Many Colour Choices Are Available
A: There are many colors you can choose from, standard white, yellow, yellow and orange gradient, red green and blue gradient, blue, pink and purple gradient, and grey and more. Although, this list of colors can be changed, removed or modified by Facebook whenever.
Q: Can the background color be changed after posting?
A: This isn't possible. You will have to do a new post with a new background of your choice.