You surf your Facebook account and see one of your friends has posted a beautiful status in bold text. You want to do the same but unable to find an option. Don't worry, this "How to" guide from Tech-Recipes explains how to make bold text in a Facebook status.
Remember that, Facebook does not have any built-in way to create bold text (except for in Notes). So, don't waste your time searching for any such option on Facebook.

In order to make your text bold in FB, you will have to generate Unicode bold text. Let's find out how to do that. Although there are plenty of applications and tools out there that allow you to create bold text, YayText is a popular one and easy to use. So, let's learn how to do it via this text generator tool.



How to Bold Text in Facebook via YayText (Step by Step)
1. Write your Facebook post but do not post it yet.

2. Now in a new tab, open up YayText text generator tool. You may access it here. The tool will allow you to write the text you want to bold. You will find various text options you can choose anyone you like most. For example, Bold Serif, Bold (Sans), etc. Select what you like.
Now click on the Copy button available next to the Bold style button. It will copy your bold text to your computer's clipboard.
Tip: Choose the "Sans" Serif font style as it better matches with the font style of Facebook.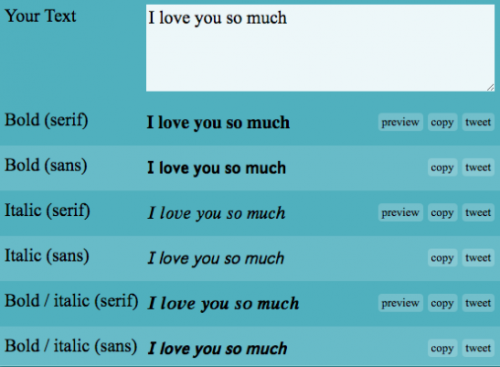 3. Now go back to your Facebook post you have written in step 1 and paste the bold text you copied in the last step. It will look like as shown in the following screenshot.

4. Congratulations! Give us high five! You are done!
If you are wondering how to bold text in a Facebook post in mobile then let us tell you that this method also works on mobile devices. However, that mobile device must support Unicode text as well.YayText is a well-known Facebook status formatting tool that lets you format different texts. Let's see what other formattings you can do apart from making bold text in a Facebook status.
How to Make Your Text Bold in Facebook Comments
It is as simple as the above method you just need to follow the same steps again. 
1. Write your comment as you normally would. Again, don't post it yet.

2. Go to a new tab again to open YayText text generator. Here enter the text you want to bold. Copy the text by clicking on the "Copy" button. The text is now copied to the clipboard of your computer.
3. Go back to your comment and paste the bold text you just copied in the above the step. Now you can post your comment.

How to Make Text Bold in Notes
1. Create a new note by accessing: facebook.com/notes. Click on the button says: "Write a note".
2. Next, choose the portion of text you want to bold and then hit "B". As you can see in the following screenshot. You can also use Ctrl + B command from your keyboard.

3. That's all you had to do.
An Easy Way to Bold and Underline text in Facebook Chat
1. Use asterisks "* *" for making the text bold in Facebook chat. If you write *bold* it will come out as bold.
2. Try out underscores for underlying. If you write _underlining_ it will show as underlining. You need to put _ in the beginning and after the text, you want to underline.
3. If you want your text to be bold and underline together, you can use like *_Write Your Text_*. It will come as: Write Your Text.
Final Words
Using bolding text on Facebook is a good way to grasp the reader's attention. Even the marketing companies do it to make their words stand out. In this guide, we learned how we can create bold text on different places on Facebook.
If you are still unable to do that, do not hesitate to write to us in the following comments. We would love to assist you.