Hello there!  How are you doing today? Have you gotten your cup of tea ready for relaxation? Okay! Today's Tech-Recipe will teach you methods to join a Group on Facebook. Groups are pages for customers with a collectively shared curiosity, such as regional yard revenue or a music genre. Facebook groups are one of the marketing tools in today's world market. Millions of people are into one group or another to market products and make sales.
Most Facebook groups could be quite fun you know. On Facebook, there is literally a group for everyone. It doesn't matter what group you are looking for, you can find almost any kind of group on facebook. From a school group to your office group, a group containing people in your country and just about any kind of group you could think of.
But then, believe it or not, I have seen people who have difficulties in joining groups on Facebook. Most of them tend to look for a big join button and see nothing. Well, I'm here to change all that by showing you how to Join a group on Facebook.
So, Let's head on to the steps!
How To Join a Group On Facebook
1. Open Facebook. Go to https://www.facebook.com. In case you are not logged in, enter your email address (or phone number) and password within the login field of the page.
2. Click the search bar.
3. Enter a key phrase.  Sort for the name of the group(s) you want to become a member of, then click on the search icon on the right side of the quest bar.

4. Click on the groups' tab. This will show any group related to your search.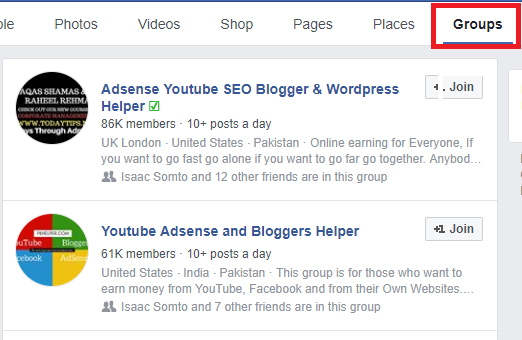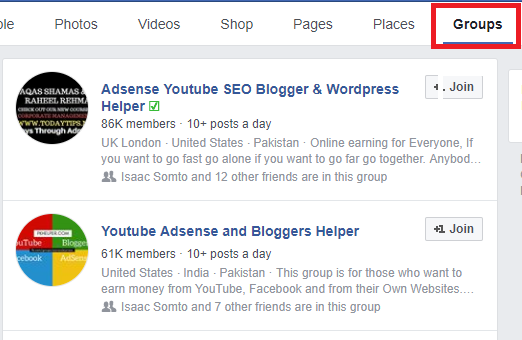 5. Click on join. You will see the join button on the right of a group; clicking it will send a request to the team's moderator(s). As soon as you're accredited to become a member of the team, you'll be able to post in the group.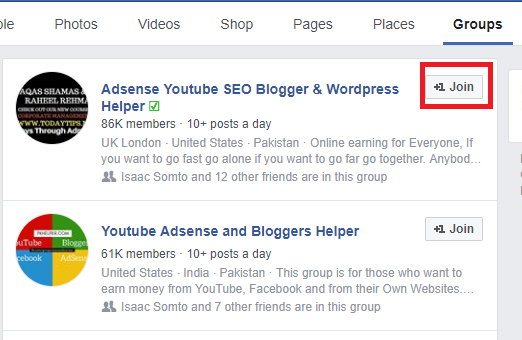 If the group is public instead of closed, you'll be in a position to see (but not interact with) the group posts and participants.
In conclusion, are you a marketer? An entrepreneur? A product seller? Or you have a brand you want to market? Joining groups with a higher number of active members will help you make sales without much stress. This is dependent on your content though.
I believe you've gained one or two things from today's topic and you will make use of them for future purpose. Thanks for stopping by. If there are any issues regarding this article, please feel free to comment.
Frequently Asked Questions and Answers
Q: Will I be receiving various notifications if I become a member of Facebook groups on my iPhone?
A: You are going to obtain notifications if you have buddies who're posting within the group. That mentioned you. You could turn off the notifications if you please.
Q: Can I access a group without joining?
A: Sure, if it is a public group, that isn't a situation at all. You can always view and participate on public groups.
Q: Do I have to join Facebook to be a member of a group?
A: Yes, you need a Facebook account to become a member of a bunch or do more often than not whatever on fb apart from just looking.