We all have Facebook friends that post things that may not interest us. Unfriending somebody is not the only way you can hide their content. You can prevent their posts from appearing in your News Feed. In fact, you can even tell Facebook to filter only specific posts from them that offend or annoy you.
Politics, religion, exercise, eating habits — the interests of some Facebook friends can be very painful to see day after day on your News Feed. However, to completely unfriend somebody can have real-world consequences. Facebook has realized this dilemma and allows users to hide content from Facebook friends without unfriending them completely. In fact, your hidden Facebook friends will not even know that you do not see their posts. Additionally, Facebook has filters which allows you to limit what posts your see from a specific friend.
In contrast, if you are just annoyed by certain applications such as spotify or pinterest, it is possible to globally block them from all of your friends.
Let us block, hide, or filter the content from one specific friend.
1. Mouse over one of the friend's post in your News Feed and click the arrow that appears at the upper right-hand corner of the post.
2. Click the Hide option.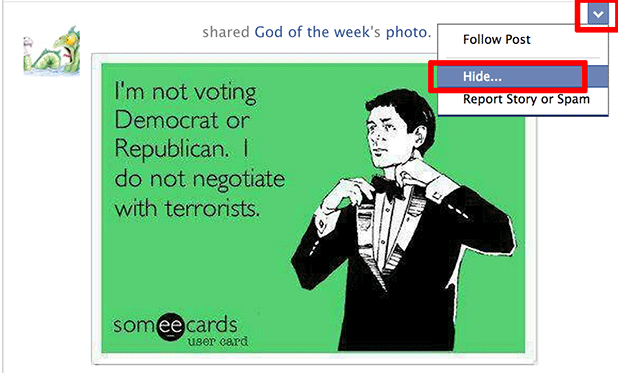 3. If you do not want to hide all the posts from that friend, you should further refine your choice by selecting the Change what updates you get option. Select which option or options you want displayed from that friend.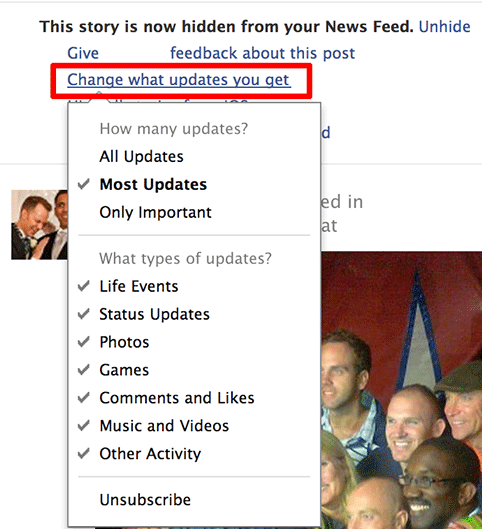 As a bonus, every Facebook user should be aware of Facebook's tool for globally adjusting and filtering which friends appear the most and the least in your News Feed.