This tech-recipe will explain how to fully disable and remove Internet Explorer 8's Accelerators feature. Accelerators were added to IE8 by Microsoft to help perform everyday tasks easily in IE, however for some of us the extra clutter in the browser is not worth the usefulness of the feature.  This removal guide will work on IE8 in Windows 7, Vista, and XP.
1. Open up Internet Explorer 8 and go to Tools > Manage Add-ons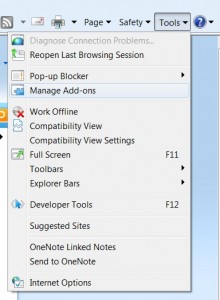 2.  In the Manage Add-ons menu, go to the Accelerators section on the left and then click on each Accelerator on the right and click the Remove icon.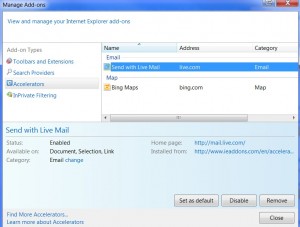 Once you have done this with all the Acclerators in the Add-ons menu, close the window.  We will have one final option to change to fully disable and remove Accelerators from IE8.
The last piece we will remove is the option that gives you the Accelerator icon whenever you select anything in IE8 (see below example); this is not turned off by just removing all Accelerators.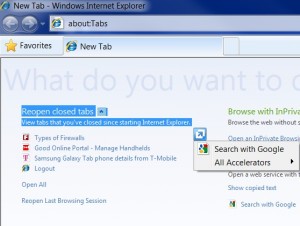 3.  To disable the icon on selected text; in IE8, go to Tools > Internet Options > Advanced tab
Under the Browsing section, find and uncheck the "Display Accelerator button on selection"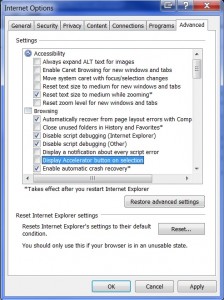 Once we do this and hit OK, Accelerators should be fully disabled and removed from IE8.  You can re-enable Accelerators by enabling the "Display Accelerator button on selection" and then redownloading the appropriate Accelerators by going to: http://www.ieaddons.com/en/accelerators