The landscape photographer is eternally looking for new locations to capture. When traveling through new areas, finding interesting areas and scenes can be challenging. Here is my favorite traditional and technical methods for finding new photography targets.
Top 10 Summary
1. Tour books
2. Postcards
3. Asking the locals
4. Geocaching
5. Flickr Maps
6. Flickr Groups
7. Google Maps
8. Google Earth
9. Bing Maps
10. TPE App
When I travel, I have my camera constantly in hand. It is hard for me to experience an area and retain some memories without building some photo shoot into my trip. The difficult part, of course, is finding that perfect new landscape target. So when I am voyaging about, these are the ways that I discover new, interesting locations. Although the technology options are the most exciting, let us review the traditional methods first.
Traditional
Tour books and postcards are classic ways for finding locations to setup your tripod. Most excellent targets have been discovered and shot time and time again. When breezing through an area, these standard references are high yield. Frequently, a new artistic take on some generic stock from the area yields unbelievable results.
Frequently, I find that asking local in the area is an efficient ways of finding new locations. When dropping into a photography store for supplies, grabbing gear from an outdoor exploring company, or picking up a map from a park's ranger station, the photographer should always ask for potential photography scene suggestions. The advantage of talking to somebody with experience is that suggestions regarding the time of day and time investment can also be discussed. Landscape photography is about lighting as much as location.
A blend of traditional exploration and GPS, many photographers have found that the hidden places discovered when geocaching are more interesting than the hidden cache itself. If you are in a rut with your home environment, geocaching will drive you off the routine paths and into places that are often concealed. A hidden, enthralling site is every landscape photographer's dream.
Technology
Online photography based social sites such as flickr are invaluable tools for finding new landscape targets. By searching flickr for the area of interest, you should find multiple potential sites and ideas. When you find a picture that contains an area that you would like to explore, click the picture's location link and a map will appear showing you the site. Please note that sometimes pictures are not geotagged correctly, so try to double-check the exact coordinates before your actually go to the place. By using flickr's map you can also graphically see pictures in an area. Similar pictures from a specific location confirms the target's position.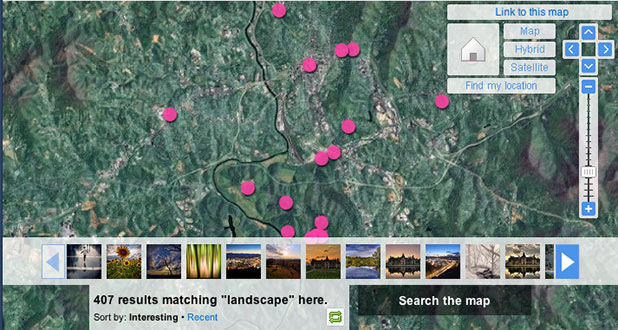 Additionally, I will often join an area's relevant flickr group prior to my visit. As pictures as posted to the group, this allows for questions about location, timing, and gear which can save valuable time and resources. Joining your local flickr group is another great way to find hidden gems in your own backyard.
If you like flickr's map service, you can utilize the power of the search engines for even more options.
Google's map, after turning on photos and terrain options, provides impressive satellite imagery under a collage of photographs taken near the area. Google Earth adds even additional features to Google's data and provides better GPS information. Additionally, Google Earth has mobile versions for both iOS and Android devices. If you are Microsoft fan, Bing's Maps with the "automatic" map style and "bird's eye" view both enabled will provide impressive topography and satellite views when zooming into an area of interest. By using Google and Bing maps, the photographer can zoom into an area to scout out potential locations. A unique area of trees, a hidden area of river, or potential mountain views can all be estimated using these powerful tools.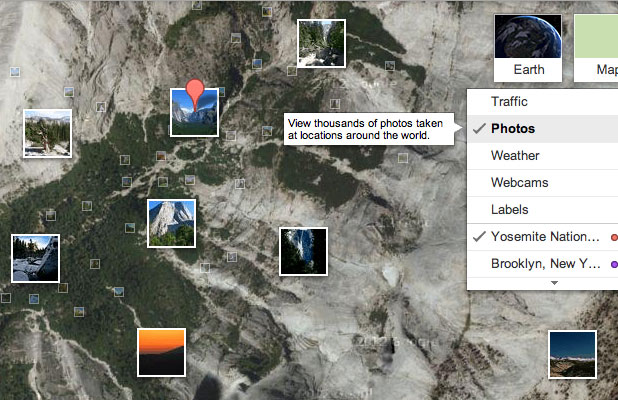 New applications are constantly being released that assist with landscape photography as well. The Photographer's Ephemeris or TPE is an application available for the desktop and mobile platforms that attempts to marry both the lighting and the location. From determining the amount of illumination from the moon to calculating when the sun will set behind a mountain, TPE and similar applications are making landscape photography more accessible, more efficient, and more fun.