Have you seen an amazing picture on Instagram that you want to save? Or maybe you have come across a cool video on Instagram and you'd do anything to get that video accessible via your Gallery. Well, you this article gives you step by step details on how you could save from Instagram.
Instagram is yet to provide its users with a big fancy button that says "download picture" or "download picture". But Hey! There's really no need to wait until such button is added to Instagram before you are able to save pictures from Instagram. You could use these methods below to save from Instagram.
How To Save From Instagram on Android
Method 1 
The first method of saving from Instagram is actually a very simple one. I bet you must have been using this already. I decided to this as the first method because I think it is quite known to a lot of people.
Method 1 involves taking a screenshot of an image on Instagram.
Shocked? Well, you shouldn't be. Taking a screenshot will automatically save the picture on the gallery of your device. The quality of the image is always high. If for some reason the image is blurry, then you might need to free up some space on your device.
Will this method work on Instagram videos?
Nope. This method is strictly for saving pictures from Instagram. As the name implies "screenshot". It takes a picture of your current screen.
It won't work on videos. But there's a way out if you are using an Android version that supports "screen record" a new feature that has recently been added to the latest version of Android. But then, screen recording most times is not clear.
You could alternatively use a screen record App to record and save from Instagram. With this, you can control the quality of the video. But then, the video sound won't be as clear as the original.
Some time ago I wrote an article on how to screenshot on Android, you can check it out. If you are having issues taking a screenshot on Android it will guide you.
Method 2
Now, method 2 is actually the best method. This is the method I use to save from Instagram.
It involves downloading an application from Google Play store that will enable you to save pictures and videos from Instagram with no challenges.
The name of the application is FastSave. All images and videos that are downloaded using FastSave always have great quality.
So, here's a step by step process of using the FastSave App to save from Instagram.
1. Download FastSave.
2. Open the FastSave app on your device.
3. Turn on the switch to start the service.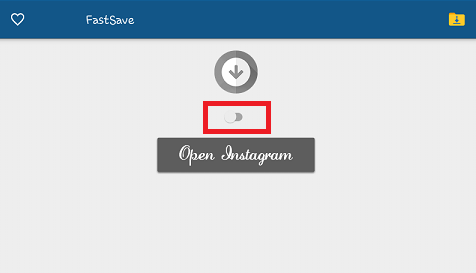 4. Go to Instagram.
5. On the image or video you want to save, Tap on the three dots located at the top-most right.
6. Tap on Copy share URL.

After completing the steps above, your video or Image will be automatically downloaded to your device. Make sure you have an active internet service connection.
One of the cool things I like about this app is that you don't need to launch the App whenever you want to download a photo or video from Instagram. Just launch the App, switch it on and there you have it.
Back in the day, I had this App on my Android device which was really cool for saving from Instagram. The only con about the App was that I always had to launch the App, locate my recently copied URL and save the image or video.
That is not the case with FastSave. Like I earlier said, All you will have to do is switch on the App and that's all. pictures and videos will be automatically saved whenever you tap on "Copy share URL".
Cool right?
Yeah, I know.
How To Save From Instagram on iPhone
If you own an iPhone or Ipad and you want to save from Instagram you will have to follow the procedures below.
You can use the first method 1 (screenshot method) to save from Instagram. It works perfectly well.
Conclusion
Following each step on this post correctly will surely work for you. Doesn't matter what Android or IOS device you are using. The Screenshot method is sure to work. If you encounter any difficulties while trying to save from Instagram leave a comment below and we will assist you immediately.
Frequently Asked Questions And Answers
Q: Where are the images and videos saved?
A: It depends on what method you use. All images, however, can be accessed through your device gallery. If you used screenshot method then you will find your images in the screenshot folder. If you used the FastSave App then you will see your saved images/videos inside a folder named insta save.
Did you like this Article? Here are other related articles.
How to repost on Instagram
How to use Instagram web
How to Get followers on Instagram
How to download Instagram stories