You can decline or accept message request on Instagram Direct even for those who are not your followers. This article will guide you in show two methods of responding to messages requests on Instagram Direct
Instagram Direct allows you to send a private message to other Instagram users. You can send instant messages, photos and videos, profiles, and posts. On the other side, you can receive a direct message from anyone on Instagram. However, messages from those that are not your followers need to seek your approval. These messages are not easily visible on your Instagram page though. How will you know if you have such requests? Let this article will guide you.
Method 1: Accept or Reject Multiple Message Requests on Instagram Direct from Inbox
To respond to message requests through the notifications, do these:
1. On your phone's Home screen, tap your Instagram app.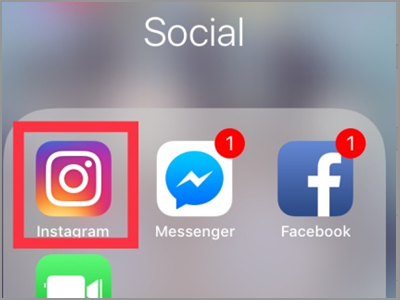 2. You will notice a red circle in the top right corner of your Home page. The number indicates the message notifications you have. Tap it to see your message request.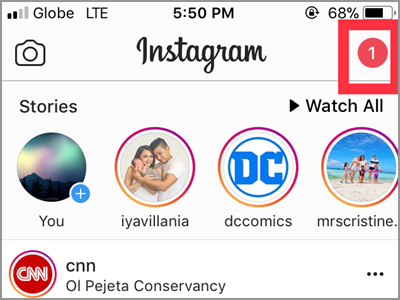 3. The next screen will show you your Inbox. The previous conversation will be found here. In the upper part, you will see how many message request you have. Tap the Request button that's highlighted in blue font.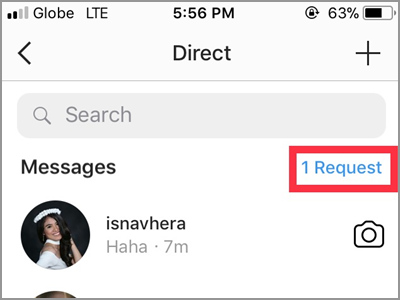 4. Messages from your non-follower will appear. You can decline them all at once if you want. The Decline All button is always available in the bottom-most part of your page. If there's a request from someone you want to accept, tap the Edit button. It's found on the top right corner of your screen.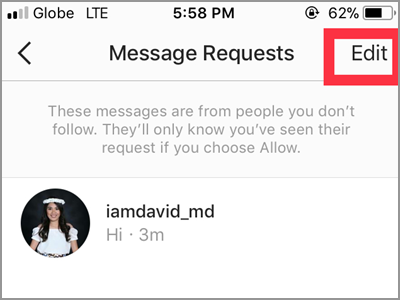 5. Put a checkmark on the message you want to accept or decline. Tap the circle on the right side of the profile.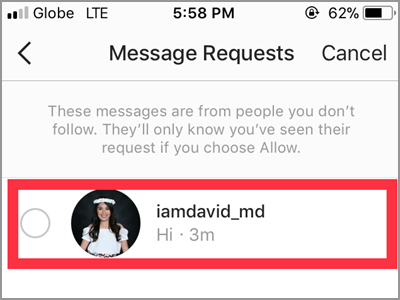 6. The button found in the lower part of your screen will change upon marking a message. Choose between Decline or Allow button. Remember whatever you choose, it'll apply to all the marked accounts. For this article tap the Allow button to accept the message request.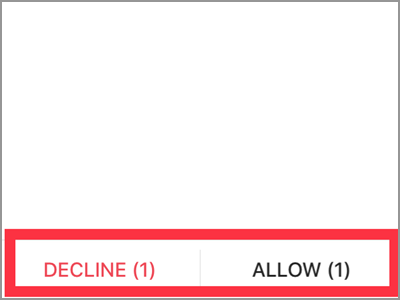 7. A pop-up window will appear. Tap the Allow button to confirm.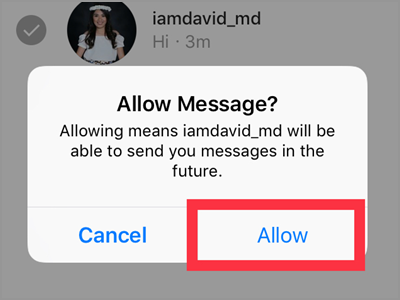 Method 2: Accept or Reject Message Requests by Swiping
This second method is a quick way to accept and decline message requests on Instagram Direct one-by-one:
1. In the Message Requests menu, swipe left on the request.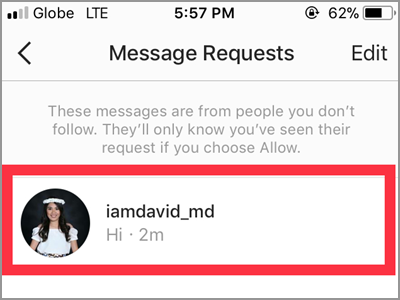 2. The Allow and Decline button should appear on the right side. Tap which button seems right for the message request.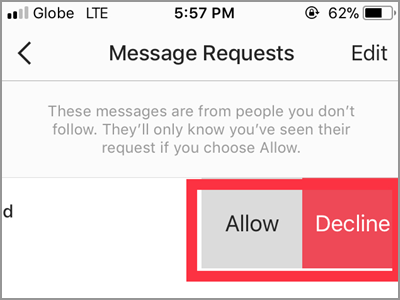 3. You are done.
Frequently Asked Questions
Q: What will happen if I decline a request? Does this means the sender cannot message me anymore?
A: If you choose to decline a message request, it means you don't want to receive a message from that sender. The person can still send you messages. However, you will not be notified again about the message. It will not even go to your message request. In other words, you can't see them.
Q: What will I do if I can't see a message request?
A: There are three reasons why you can't see the request. First, the sender might've deleted it. If you have a contact with that person, you can ask him to send the message again. Second, Instagram might consider the message as spam and removed it – which is a good initiative from the app. Lastly, if you've declined the first message request from that user, you won't be seeing any message notification from that user again. In that case, the second and succeeding messages will not be visible. But, if you know the username of that person, you can search for those private messages. Go to your Direct Message Inbox. Then type the username in the search box. Upon tapping the account you will see the messages sent from that person.
Declining message requests may mean that you won't be getting any notification from that person again. Be sure that when declining, you have no intents of future communications with that person.
You just learned how to respond to message requests on Instagram Direct. If you have questions about any of the information in this article, let us know in the comments section.
If you are interested in this article, you might want to check on these related titles:
How to Disable Message Replies for Instagram Stories
How To DM on Instagram | Send Direct Messages
How To Send Posts as Direct Messages on Instagram
How to Send a Profile as a Message on Instagram
How to Send Secret Messages on Facebook
How to Access the Hidden Messages in Facebook Messenger
How to Add Notes to Facebook Page Messenger
A supply chain operations manager by profession. A technology-lover and a writer by heart. I have the passion to teach and inform.