They are more than 800 million users on Instagram today, that's a whole lot of people. I'm here to teach you how to increase your followers without much stress, if you really want to gain more followers on Instagram, all you have to do is follow the tips in this post and you will see the results.
So let's say you are new on Instagram and after setting up a unique account with a Cool Bio, profile picture and some cool posts, in time you discover that your followers on Instagram are literally nothing compared to that of your competitors or friends. Not to worry, that's where I come in. In a bit, you will learn some amazing ways to increase followers on Instagram.
How to Get Followers on Instagram
Use of Hashtags (#)
Using hashtags is one of the most popular ways to get followers on Instagram. When you post a picture or upload a video and add hashtags to it, the post will be visible to pages with the same Hashtag.
How to use the Hashtag:

1. Take/choose a Photo/Video to upload.

2. Choose filter and tap next.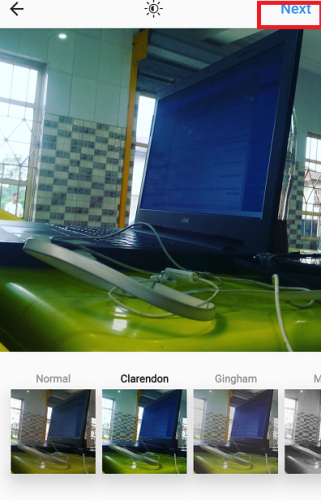 3. Add a hashtag to it by typing # followed by the text or word you want to use for it without space (Example: #Laptop). Although, it is best you tap on the hashtag suggestion.

4. If you want to add a hashtag to an existing post, you can "edit the caption", follow the above steps and save.
Liking of Random Photos.
Liking photos randomly is another way of getting followers on Instagram. You could get a bunch of followers on Instagram simply by double-tapping some photos of your interest.
You can open the "Explore/Search" page and take a glance of the most popular photos there, double tap to "like" some of the photos you find in your interest or photos related to your brand. Interest can be Places, Food, People, Music e.t.c. After liking, there is a possibility that you will get followers. 
Search using "Get Followers tags".
This is another step to take if you want to grow your Instagram page very fast. Search for these special tags such as; #Like4Like #LikeForLike. There are so many of them.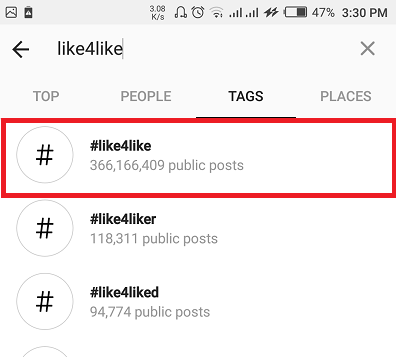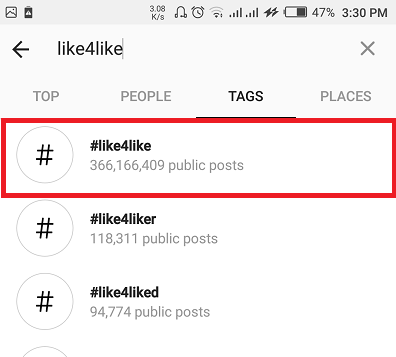 After searching for any of those tags, just go through all the photos in the result feeds based on what you have searched and like multiple photos. The more you like the more likely you are to get more followers. You can also search for tags like #Follow4follow and follow users.
Repeat this process a couple of times and then watch your notifications read with increased numbers of followers. But this actually depends on how many pictures you've liked and accounts you have followed.
Comment and Interact with others.
You should not only like people's photos and follow them.  To gain more followers on Instagram, you can also post positive comments on their images or videos to probably kickstart a conversation which could eventually lead to a follow. Some persons might be pleased with your comment and may likely follow you.
It's not a must to comment on every post, but you should do for some photos and videos that deem fit. 
Let me quickly show you an example, let's say you go exploring on Instagram and then you see a nice image of a shoe, your comment could be; "I Love that Shoe, where can I get mine?"
Be Consistent – Post Regularly
For you to get more followers, you have to be active and consistent. You can't be inactive on Instagram and expect to get a huge amount of followers.
Keeping your page active or being consistent doesn't mean you should post irrelevant pictures and all. The post should be something Beautiful and Interesting. Don't upload too many photos or videos daily and don't post too many at a time. Posting too much can make your followers bored of seeing your post and might hit the unfollow button, and that's the last thing you would want.
Follow Others – People who follow back
Following people that have huge followings in their page and people that use or do the "Follow4Follow" train will likely get you more followers. Their main aim is to get more followers there-by following everyone that follows them.
You can always follow them and make sure you give them more time and a better chance for them to follow you back because most people are not online always.
These methods have been tested and proven to work. I personally increased my followers on Instagram by following all the steps listed on this post. In life, growing takes time in most cases and this law or rule is also applicable to getting followers on Instagram through the listed methods. If applied correctly, it will surely work for you, but you need to exercise patience.
Frequently Asked Questions And Answers
Q: I have tried all steps and I haven't noticed any increase in followers
A: This is almost impossible. If you apply the tips listed in this article you will definitely notice an increased followership on Instagram. Your followers may not increase from 200 to 10,000, but, you'll surely get followers.
Q: Can I increase followers on Instagram by using online generators?
A: I won't advice you to do this. If you want a bunch of fake, irrelevant followers on Instagram you can try it. The tips I have given in this article won't bring any fake followers to you. All your followers will be genuine.
Q: How long Does it take to see an increase in followership?
A: I really can't say how long it will take because it is almost impossible to calculate. What I would say is, apply all techniques listed in this article and hope for the best.