Apple laptops have one of the best trackpads in the industry. However, after OS X Lion, Apple decided to hide tap and drag options deep within the Preferences. This technique is an alternative method for moving icons, windows, and other items by just tapping on an item and then moving your finger on the trackpad. This is very useful if you do not have a clickable trackpad or if you just miss this feature.
Prior to OS X Lion, you could tap and drag to select text, move icons and windows in any app where you had to select items. For power users, this is a very handy feature and is useful for those users with Macs that do not have a multi-gesture capable touchpad or trackpad.
1. Go into Preferences.
2. Go to Accessibility.
3. On the left pane, go down to Mouse & Trackpad.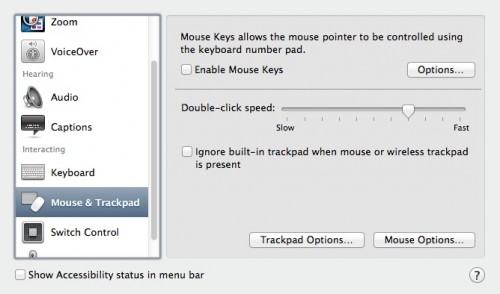 4. Click on the Trackpad Options.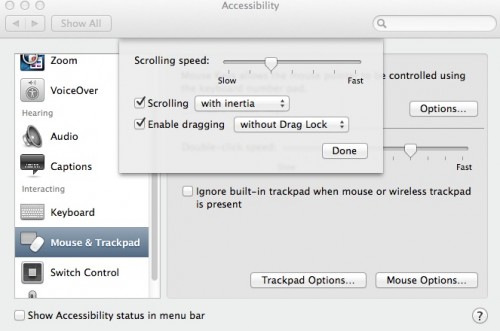 5. Now, click on the Enable dragging box. You can also select whether to enable without Drag Lock or with Drag Lock.
Without Drag Lock, dragging stops immediately after you lift your finger after dragging. With Drag Lock, dragging continues even if you lift finger and one tap on the trackpad is required to stop.