Apple frequently releases beta versions of its iOS software through ipsw files. These are the same file format that iTune uses to create backups of your device. If you should find yourself needing to update your device with an ipsw file, this tutorial will walk you through it.
I recently have been receiving several requests for a tutorial on installing or using .ipsw files. I had originally thought this was due to the increasing amount of iPhone and iPad developers. However, now it has become clear that there is a lot of underground distribution and sharing of Beta versions of iOS. Everybody wants the latest features for their devices.
This tech-recipe describes how up update your device with an ipsw file. This process will completely erase your device.
1. Connect your iPhone, iPad, or iPod Touch to your computer via USB.
2. Click on it in iTunes.
3. On an Apple computer, hold down the "alt option" key and press the Restore button. On a windows computer, hold down the "shift" key and press the Restore button.
4. Browse to your ipsw file and select it when the dialog box appears.
5. Confirm when the warning dialog box appears.
Here is a graphic showing how to update your device with an ipsw file in OS X: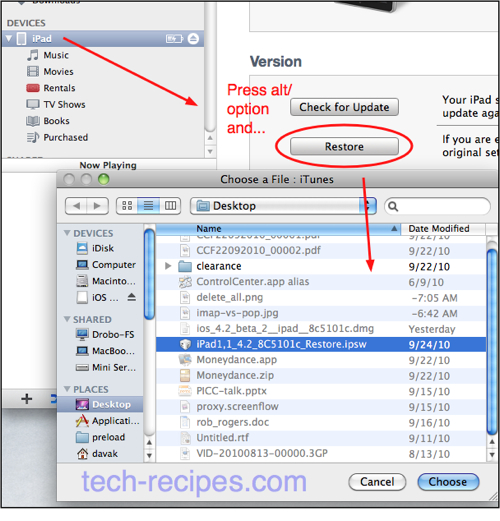 Likewise, here is the demonstration on a Windows machine. I'm using XP here: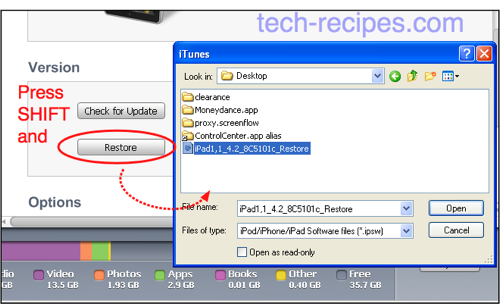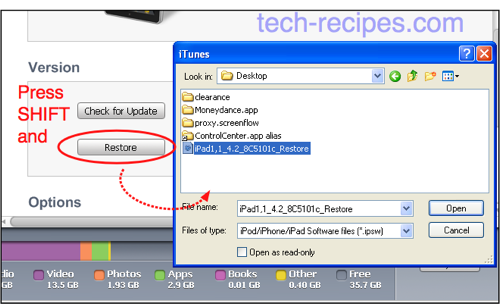 Just because you can upgrade to the latest beta using these methods does not mean that it is a good idea. As an iOS developer, I can tell you that the beta releases typically have serious bugs. Unless you have a really good reason to upgrade early, you should wait until the official release is available.
David Kirk is one of the original founders of tech-recipes and is currently serving as editor-in-chief. Not only has he been crafting tutorials for over ten years, but in his other life he also enjoys taking care of critically ill patients as an ICU physician.