Sometimes, the iPhone can be a distraction. You can use the Do Not Disturb feature to block any notification while your iPhone's screen is turned off. However, there are certain people whom you want to contact you regardless if you are sleeping or doing something important. This article will discuss how to allow specific people to call while the Do Not Disturb Mode on iPhone is enabled.
It's quite annoying when you frequently hear your phone's rings, notifications, and app alert especially when you are about to take your rest or in an out of town trip. Enabling the phone's airplane mode or turning it into silence are the most common ways to temporarily get rid of notifications. You can also enable the Do Not Disturb Mode on iPhone. However, it is not advisable to turn off every alert and automatically ignore every call that you get. Thus, it's an advantage for an iPhone user to know how to maximize the usage of the "Do Not Disturb" mode by allowing certain people to contact you even if the feature is enabled.
How to Whitelist People to Allow Calls on Do Not Disturb Mode on iPhone
Here is the method on how you can allow a specific people to call on "Do Not Disturb" mode.
1.On your Home screen, click the Settings.

2.Look for the moon icon or the "Do Not Disturb" mode. Do Not Disturb Mode will then launch the options you want to activate. The Do Not Disturb page has the DND switch, "Scheduled", "Allow Calls From", and "Repeated calls". There are also two options under "Silence" which are "Always" and "Only while iPhone is Locked".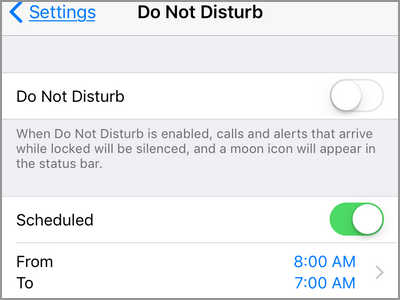 3.Choose the "Allow Calls From". This will let you select to whom will you give permission to call you even on a "Do Not Disturb" mode. The choices are a group of people based on your contacts. The option will allow calls from your chosen group.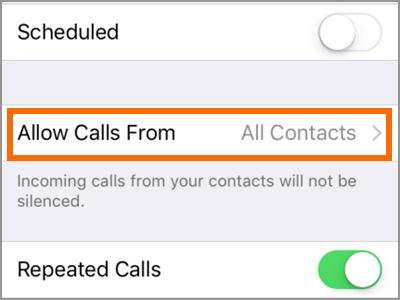 ● "Everyone" permits calls including those that are not registered in your contact list.
● "No One" means that no calls will be allowed during the "Do Not Disturb" mode.
● "All Contacts" will let everyone on your contact list to call you.
● "Favorites" will only allow those on your favorites contacts list.
4.If you're done on selecting your group, go back to the previous menu. Then, activate your "Do Not Disturb" mode by tapping on the switch button. A green button means that the feature is turned on.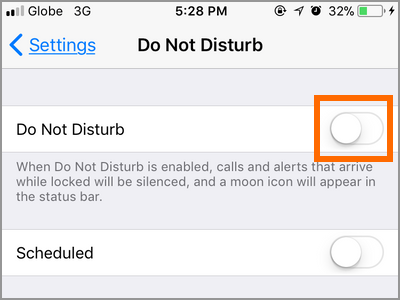 5.After that, the moon icon in the upper right corner of your screen will appear. It means, the "Do Not Disturb" mode is on.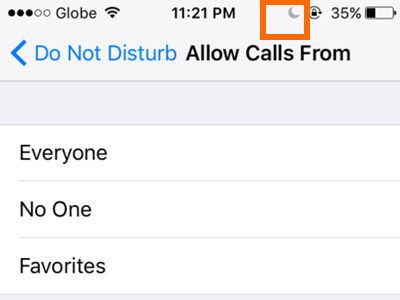 Note: You can also activate your setting for "Do Not Disturb" by turning on the moon icon in the control center. If you already set a specific people to call you during this mode, it will automatically adapt.
Frequently Asked Questions
Q: I already set my favorites to allow calls when "Do Not Disturb" is on. But I'm still receiving calls from other contacts not included in my favorites. What might be the problem?
A: First of all, the "Do Not Disturb" mode will only silence notifications and keep your iPhone from waking up. But you will still receive those messages and calls. In your case, you might have turned on the "Scheduled". In this state, there is a specific time when to enable the "Do Not Disturb" mode. If you are not aware of it, you might assume that you're on this. Keep in mind that you need to see the moon icon to confirm that it was on.
Q: Why does the feature still allows the alarm to go off?
A: The "Do Not Disturb" is only to silence calls, notifications, and alerts. Unfortunately, alarms are not part of any of those mentioned. This also makes sense as the alarm is meant to notify you during a certain period of the day. If you want to disable the alarm, then just turn it off in the the Clock app.
Good to Remember:
Make sure that those you want to call you even on "Do Not Disturb" mode were added to your contact's favorites. By doing so, you'll never have to miss calls from someone important to you. Furthermore, you can always use the other options on the list. Like the "Repeated Calls", which will allow the second call from the same person. On the other hand, if you don't want any disturbance even your phone is unlocked, you can choose the "Always" option which silences alerts and notifications whether on locked or unlocked screen.
The way you control your iPhone's special mode would be beneficial for you and your loved ones. The Do Not Disturb Mode is like a personal assistant that screens out less important messages while letting you know when it's time to take an important one. The feature will help you be you more productive and relax while doing your day to day activities. If you have questions with any of the steps above, let us know in the comments.
Make the most out of the Do Not Disturb Mode feature on iPhone by checking out these related articles:
How to Use Do Not Disturb While Driving on iPhone iOS 11
How to Schedule Do Not Disturb Mode on iPhone
Place your iPad or iPhone in Do Not Disturb Mode
Restrict Changes to Do Not Disturb While Driving on iPhone