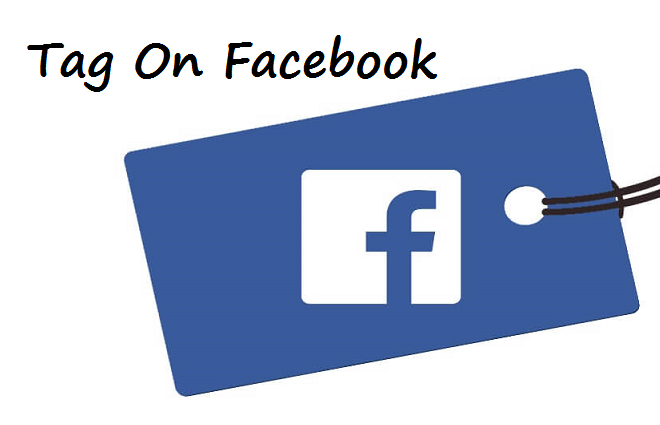 Hey there! This article is centered on Facebook. I'm gonna give you a glimpse of what tagging is and also show you how you can tag on Facebook while creating a post on Facebook.
So, What is tagging all about? Well, tagging on Facebook occurs when you include a friends' name as a link in one of your posts.
According to Facebook,"When you tag someone, you create a link to their profile".
When you tag a friend to your post, you create a link that draws that persons' attention, anyone you tag on Facebook quickly receives a notification that they have been tagged.
Okay, here's another thing, if probably the person or persons you have tagged have privacy settings set to "public" your post will show up on their timeline and on the newsfeed of their friends. In some cases, your friend may have to approve the link/tag before it shows up on your friends' timeline.
Did you know that one of the most popular features on Facebook is tagging? Tagging gives you the ability to identify and reference people in photos, videos and also comments.
I really don't want to bore you. So, I'll quickly show you how to tag on Facebook.
How to tag on Facebook (Tagging Friends)
Now, remember tagging on Facebook is all about linking to a friends profile. I'll start by showing you how to tag on Facebook while creating a Facebook post.
So, here goes.
Let's assume you are using a PC;
1. At the top of your profile, go to "create a post"
2. After writing or uploading a picture, Click on the button which says "tag friends".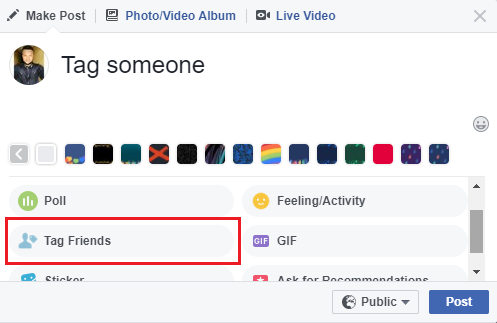 3. Type in the Facebook name of who you want to tag.
4. As you type in the name, you'll notice a drop down box appears with your friends' names.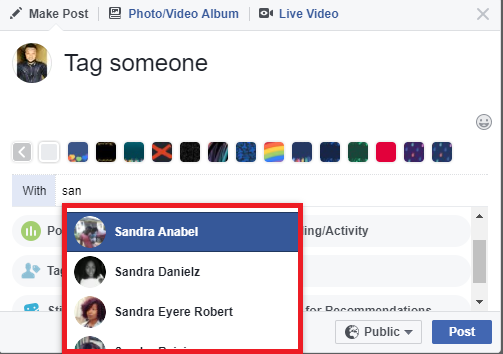 5. Choose the person you want to link/tag to your post from the drop-down menu.
6. Finish up your write-up or edits.
7. Tap on post.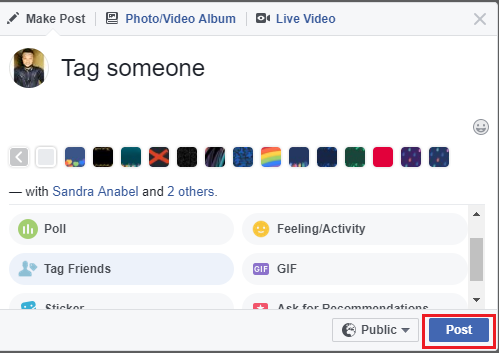 How To Tag on Facebook (Tagging pages)
My brother once asked me if it was possible to tag a Facebook page to a post on Facebook. I said YES!
If you want to tag a page on your Facebook post, the process is almost the same with the first process of tagging friends to a post on Facebook. Simply write your post, insert whatever you want to insert and then type the @ symbol followed by the page name. This also works for Facebook groups.
The @ symbol is not limited to tagging a group or page on Facebook, You can also use the @ symbol to tag a friend on Facebook.
Just insert the @ symbol followed by your friends' name.
As you type the name of who you would like to reference, a drop-down menu will appear that allows you to choose from your list of friends and other connections, including groups, apply applications, events ( like I mentioned earlier on) and of course pages.
How to Tag on Facebook (Tagging on Pictures)
Yes! You can also tag friends to images on Facebook.
Here's how;
1. Open Facebook
2. Select a photo to post on Facebook. (probably one with you and your friend standing together).
3. Click on the small tag icon on the picture.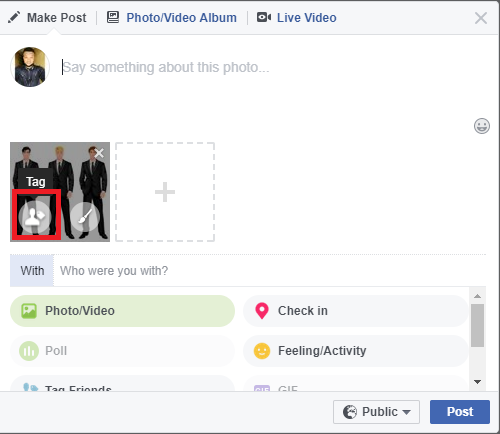 4. Hover and click on the persons' image and select his/her name. (You can do this for as many persons' available).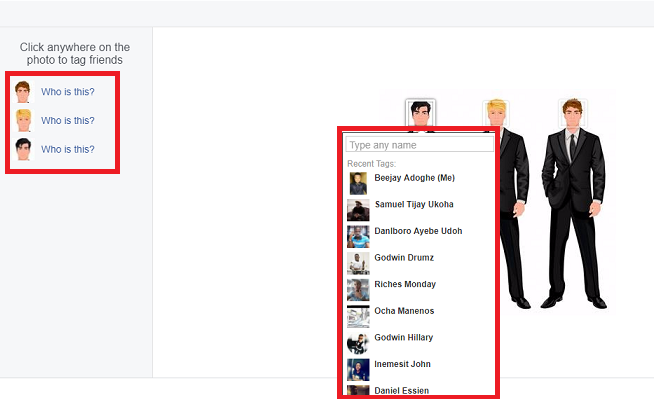 5. After tagging click on save.
6. Finally, click on Post.
Frequently Asked Questions And Answers
Q: Can I remove a tag from a post.
A: Sure you can. To do this, click the arrow at the top right corner of your post and select "edit post". Here you can remove any tag.
Q: Can I tag in a comment on facebook?
A: Yes! You need to start with @ if you are tagging a page. You will see a drop down menu with all the pages with similar names as the ones you typed will appear, then you can click on the one you want. If it's just your Facebook friends, just type in their names.