More modern versions of Windows such as Vista and Windows 7 have DreamScene which allows videos to be used as wallpaper for the desktop. XP users cannot use DreamScene but we can still show you how to use a video for your desktop wallpaper or background.
Windows XP doesn't have DreamScene. Downloading and running DreamScene from a different operating system will not work.
First, you need to download and install the amazing free media player VLC player.
1. Lauch VLC Player
2. Go to Tool-> Preferences
3. The preferences window will pop up,now choose the video options.
4. In the output option, choose "Direct X (Video Draw) video output". Check the "Enable wallpaper mode" box and hit Save.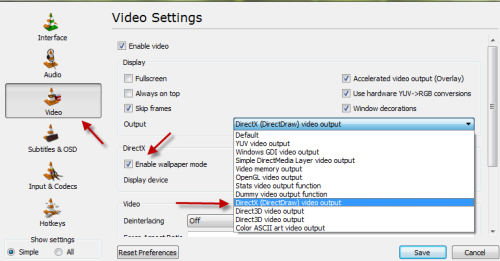 5. Now you can play a video. The video will be automatically play as your desktop wallpaper.
With VLC, not only you can set wmv files as your wallpaper but also other file formats too!
Note: You can also use this method on Windows Vista and Windows 7. When the video is set as your wallpaper, the theme will automatically change to Basic mode. It will return to normal theme when you are finished watching videos.