By default, Powperpoint's undo function remembers your last 20 actions. However, if you work with large Powerpoint documents with multiple changes, you may need a lot more than that. Here is how to change the number of undo steps to whatever you wish.
I frequently use the "undo" function in powerpoint. Typically 20 steps is enough–especially if you save often. However, occasionally I find I really need to go way back in time and fix something. Increasing the steps will give you more flexibility.
What's the downside of greatly increasing this number? The more changes Powerpoint has to remember, the more memory Powerpoint will use on your system.
1. Launch Powerpoint 2010.
2. Go to File->Options.


3. In Powerpoint options window, go to Advanced and look for Maximum number of undos.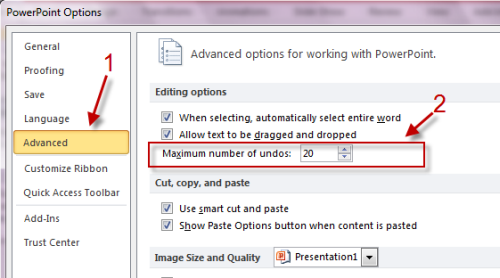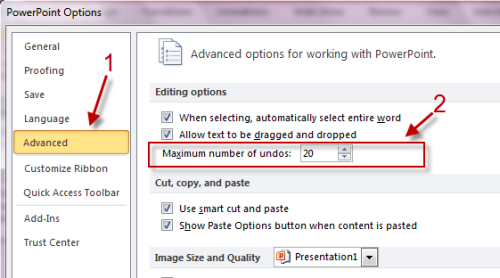 4. Change the number in Maximum number of undos to your preferred number. (the number must be less than or equal to 150)


5. Hit OK.