Windows 10 never really got accepted by some users, as a lot of them were still in love with the good old Windows 7. Apart from those users, there is a group of people that very much enjoy their Windows 10 experience and are eagerly waiting for new updates and features. On the most anticipated update with the Windows 10 Spring Creators update also known as Redstone 4.

Certain news sites are saying that the date for the official release is to be 10th of April 2018, while Microsoft only said April 2018. This update is to bring a lot of new features and fixes such as visual improvements, new fancy things to play with and fixes for certain thing that weren't working. The major improvements made to the Windows 10 are visual changes and improvement, Edge is getting new features, input changes for those using a touch screen and new settings options, menus and visual changes. We will outline all of them as soon as the official update is released through the regular Windows update.
Since the update is about to be officially released sometime this month, it means that Microsoft already uploaded the updates on their servers, but not as an ISO file. Instead the updates are ESD files, which is not alarming, since you are able to download the ESD files and convert them to ISO. The official version is Windows 10 1803 build 17133. The file with the download links includes all versions: Client and Business, 32 and 64 bit versions and Home, Education and Pro versions. This means that the version that you are looking for is definitely in the list.
1.Check the Windows 10 version that you currently have installed. You can do that by navigating to the system menu where you can see if you are using Home, Education or Pro as well as if you have a 32-bit or 64-bit version and if you are using Consumer or Business version of Windows 10
2.There is a document with the list of downloads on Pastebin (https://pastebin.com/raw/mepnsM6D). go to this link and select the version that you want to download, make sure that you check the language that you are downloading. It will be need the end of the link, right before the random string of numbers and letters in this format "en-gb" for the English version
3.While the ESD file is downloading go to this link (http://abbodi1406.square7.ch/ESD/esd-decrypter-wimlib-37.7z) to download Winlib, an application that will enable you to convert the ESD files to ISO. The application comes packed in a 7z archive which you can unpack using your preferred archiving tool
4.Unpack the files on your computer
5.Copy the downloaded ESD file in the folder that you created for the Wimlib application
6.Right click on "decrypt" and run the application as administrator

7.Once the command prompt windows open you will have a few options to select from. You can enter 1 from the keyboard to select "Continue including all editions"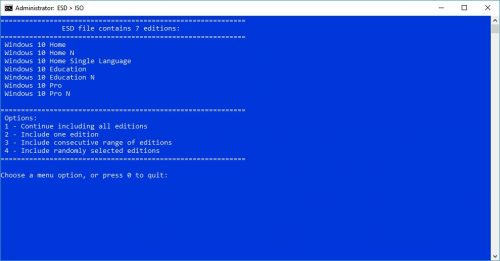 8.On the next section press 1 on the keyboard to select "Create Full ISO with Standard install.wim"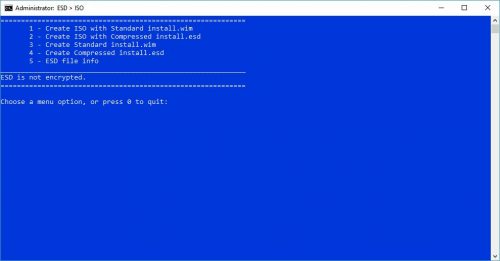 9.The process will take a few minutes to create the ISO file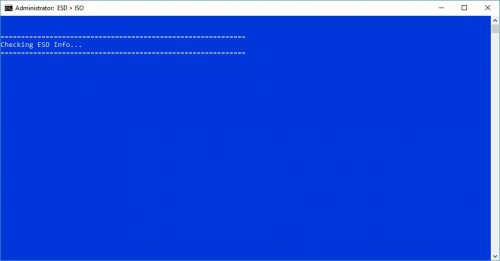 10.Once the process is complete, you will get a message that the ISO file is prepared and you can locate it the ISO file in the same folder where you copied the ESD file
Now that you have the ISO file you can write it on a DVD or create a bootable USB to boot Windows 10 and perform the update.
Frequently Asked Questions and Answers
Q: Can the update break my Windows?
A: There is a possibility. In the past there were some cases where updates caused system crashes which Microsoft later fixed during smaller updates. Be aware that there is a risk that you may corrupt your Windows, so unless you are too eager to get the updated it is suggested to wait and see if other people have a problem. If you do decide to go ahead with the update, make sure that you do a backup.
Q: Do I need to perform a clean install?
A: it is not mandatory, it is optional. Making a clean install will basically enable you to start fresh with the new update. If you don't want to reinstall the applications all over again or setup your Windows from scratch the you do not have to perform a clean install.