OS X: How Can I Access exFAT drives with my Apple Computer?
Posted December 1, 2010 by David Kirk in Apple Mac
exFAT is a relatively new file system introduced by Microsoft with the Vista OS. It is frequently used in Windows 7 installations as well. Many Apple users need the ability to access exFAT drives — especially shared external hard drives. Can Apple computers use exFAT drives?
As previously discussed in our exFAT versus FAT32 versus NTFS article, exFAT is a good modern update to Microsoft's file system. However, previously Apple OS X users have had difficulty accessing exFAT drives.
However, with OS X update 10.6.5, Apple fully supports accessing exFAT drives.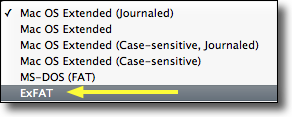 Once you update Snow Leopard to the latest update, you should have full access to exFAT drives without any difficulties.
David Kirk is one of the original founders of tech-recipes and is currently serving as editor-in-chief. Not only has he been crafting tutorials for over ten years, but in his other life he also enjoys taking care of critically ill patients as an ICU physician.
View more articles by David Kirk
The Conversation
Follow the reactions below and share your own thoughts.