BlackBerry: Check for Application Updates with an Apple Computer
Posted August 21, 2010 by David Kirk in Apple Mac
BlackBerry applications are frequently updated to add additional features and to fix bugs. Here are the steps required to check your BlackBerry device for updates on your Apple computer.
Checking your BlackBerry for applications updates can be performed every time you dock your device.
1. Connect your device via USB
2. Open the BlackBerry Desktop Manager if it doesn't open automatically
3. Open the Applications dialog box either by selecting Device -> Applications or by clicking the Applications icon in the upper right hand corner.
4. Press the Check for Updates button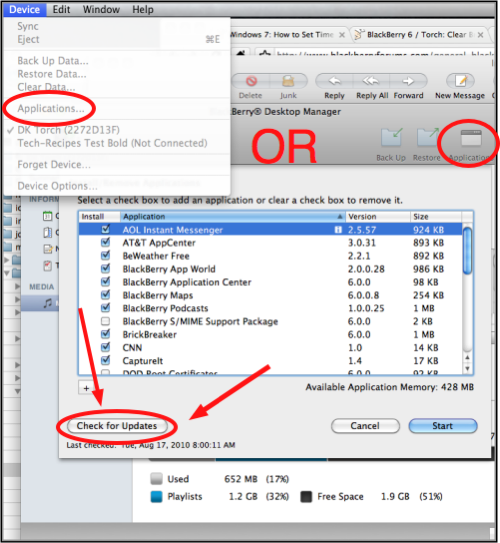 Any new updates will be listed and can be installed.
David Kirk is one of the original founders of tech-recipes and is currently serving as editor-in-chief. Not only has he been crafting tutorials for over ten years, but in his other life he also enjoys taking care of critically ill patients as an ICU physician.
View more articles by David Kirk
The Conversation
Follow the reactions below and share your own thoughts.