How To Create Hotspot With Android | Easy Steps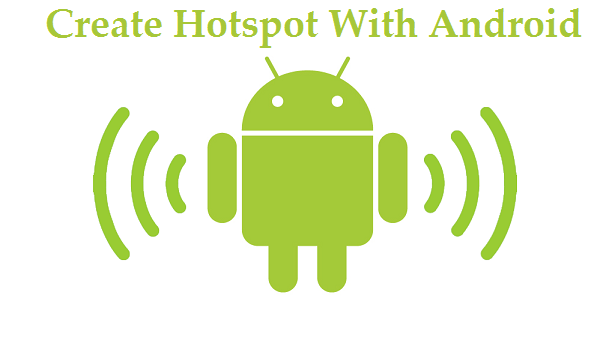 Hey there, do you want to establish an internet connection from your Android device to your PC or any other wifi enabled device?  This article will guide you through on how to create hotspot with Android. I have made it simple and concise for anyone to easily understand and put into practice. 
I know I should just get straight to the chase and tell you how this is done. But where's the fun in that?
Sit back, and relax, you are about to read a whopping 13,000 words.
Hey! Come on, take a joke.
What is A Wi-Fi Hotspot?
For some of you who are newbies, I want to briefly explain what a Wi-Fi hotspot is. Now, I did some research and found this definition on Wikipedia.
"Generally, A hotspot is a physical location where people may obtain Internet access, typically using Wi-Fi technology, via a wireless local area network (WLAN) using a router connected to an internet service provider."
Does this sound confusing or a bit too techy for your understanding? I'll break it down.
A hotspot in the case of an Android device is simply your device giving other devices internet access without the use of cables, over a particular area. So, if you are connected to a Wi-Fi and you go out of range, you are sure to lose the Internet connection.
With all that being said, I think you should by now have a clear understanding of what a Wi-Fi hotspot is. Now, in this article, you are going to learn how to create hotspot with Android and connect other devices to your Android device for connection sharing.
Get it?
Not yet?
I'll show you how to create an internet connection between your Android device and other devices. This explanation should be clearer.
There are many ways this can be done. There's the option of manually creating a hotspot with your Android device via your device settings. There is also the option of downloading an application that can create and also manage your hotspot.
In this post, I'll be showing you one of these two options. How to create Hotspot with Android via your device settings.
How To Create Hotspot with Android
Here is a detailed step by step guide on how you can create Hotspot with Android.
1. Go to settings on your device.
2. Tap on Tethering and mobile hotspot. (In some Android devices you will have to tap on more before you can see the Tethering and Mobile Hotspot option).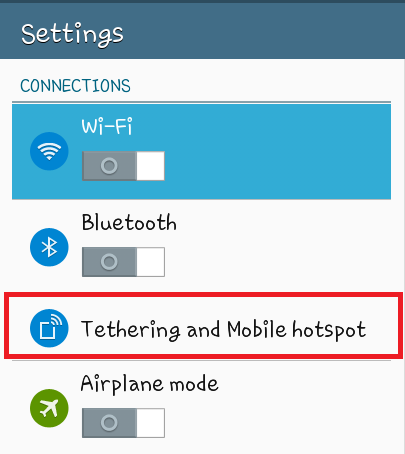 3. Tap on Mobile Hotspot.
4. Toggle to switch on Hotspot.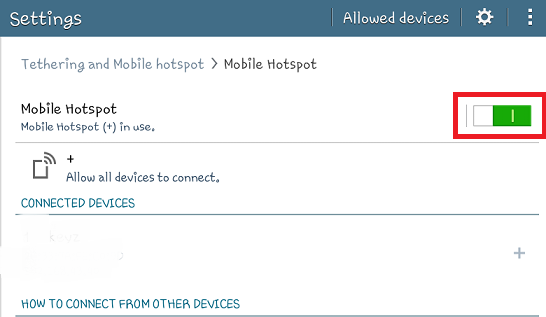 And there you have it. It is so simple, right? Yeah.
So, If you passed the steps above, then you have successfully created Hotspot with Android. But then, It doesn't just end at that. You also need to tweak some settings after switching on Hotspot.
If you create Hotspot with Android and you don't secure it, Lot's of people around your location will be able to gain access to your Internet connection by connecting to your open Hotspot.
So, it is advisable that your secure your Hotspot when you create one.
Here's how to secure your Hotspot.
1. On the Tethering and Mobile Hotspot interface click on the little settings icon (other devices may differ).
2. Tap on Security
3. Select WPA2 PSK.
4. Enter a password of at least 8 characters. (This may differ on some devices).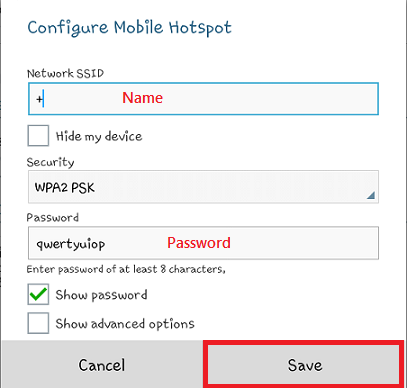 5. Finally, tap on Save.
After completion, your Hotspot will be secured. No one will be able to gain access or connect to your Hotspot without having the correct and complete password. Even the best of hackers will find it difficult to break into your Hotspot.
You can connect as much as 1 – 15 devices. This actually depends on your Android device and it's ability.
Whenever you want to connect an external device to your already activated Android Hotspot, all you have to do is go to Wi-Fi on the external device and connect to your Android Hotspot.
Did I tell you about setting your Hotspot name? Uhm, No I guess.
You should set a name for your Hotspot after creating it. You can do this by going to the Hotspot settings, tapping on Name or Network SSID and writing any name of your choice.
Are you out of ideas?
Here are some funny Wi-Fi names that you can use. Courtesy of makeuseof.
Mom Use This One
Abraham Linksys
Benjamin FrankLAN
Martin Router King
John Wilkes Bluetooth
Pretty Fly for a Wi-Fi
Bill Wi the Science Fi
I Believe Wi Can Fi
Tell My Wi-Fi Love Her
No More Mister Wi-Fi
LAN Solo
The LAN Before Time
Silence of the LANs
House LANister
Winternet Is Coming
Ping's Landing
The Ping in the North
This LAN Is My LAN
Funny right? Yeah, I know.
So, that's basically all I have to give to you on how to create hotspot with Android. If you encounter any issues while trying to create hotspot with Android, simply tells us about it in the comment section and we will be of immediate assistance to you.
The Conversation
Follow the reactions below and share your own thoughts.