How Do I Stream Music and Videos to my iPhone or iPad from my Computer?
Posted March 22, 2011 by David Kirk in Apple Mac
My son is sitting in his room watching a cartoon on my iPad that is being streamed wirelessly from my computer. Yesterday, when I was mowing my hard, I streamed a music playlist from my computer to my iPhone. With the latest versions of iTunes and iOS 4.3, streaming media to your portable device is almost effortless. Here is how to set everything up.
1. First make sure you have the latest versions of iTunes on your computer and iOS on your iPhone, iPad, or iPod Touch.
2. Enable Home Sharing on your computer
3. On your iPhone, iPad, or your Touch, click the Settings icon
4. Select iPod
5. In the Home Sharing section, enter your Apple ID and Password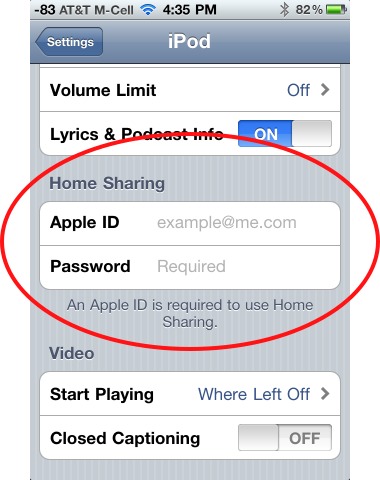 6. Then hit the Home button to return to your main menu and open your iPod application
7. Click the More button at the bottom right corner of the iPod application
8. Click the Shared icon to view the other Home Shares on your network.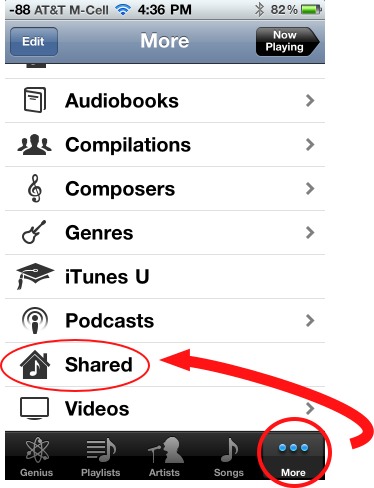 9. Select the library you want to use. You iOS device will now basically act like that entire library is on your phone. You can select playlists, artist, songs, videos, or whatever.
David Kirk is one of the original founders of tech-recipes and is currently serving as editor-in-chief. Not only has he been crafting tutorials for over ten years, but in his other life he also enjoys taking care of critically ill patients as an ICU physician.
View more articles by David Kirk
The Conversation
Follow the reactions below and share your own thoughts.