Microsoft Onenote 2010: Hide Author Tags and Highlighting of New Changes
Onenote 2010 is a great note taking and clipping application. It now supports shared notebooks across multiple computers.  By default, Onenote will tag changes with the author's initials and highlight any new content when opened on a different computer. This tutorial describes how to turn that off.
1. Open Onenote and the shared Notebook.  If you made changes to it on a different computer, you will probably see a view like this.
Notice the initials to the right, this indicates who made the last changes that are also highlighted.  Let's remove the highlighting and author tags.

2. Go to the Ribbon area and click on Share > Mark as Read and uncheck the Show Unread Changes in This Notebook option.
This will turn off highlighting in the current shared notebook.  You can turn the track changes type feature back on by repeating the above and just checking the option.  This setting is applied per Notebook and not application wide.  So you will want to do this for each of your shared notebooks.
3. To turn off the the Author tags that appear, you can go to the Ribbon area and click on Share > Hide Authors.  This will remove the initials that appear next to new notes / content.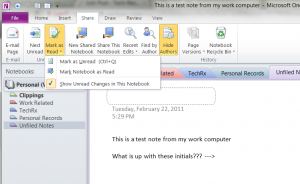 We now should have both the author tags and highlighting of new changes turned off.

NOTES:
Once you view or click in a highlighted area, Onenote considers the note read and removes the highlighting when the feature is on. It also turns the Section title with new changes/content bold.
Jimmy Selix is an early adopter that loves to be one of the first on the block to have the latest and greatest in technology and gadgets. Another love of his is being able to share his knowledge to others seeking it. Feel free to drop any comments or questions that you may have.
View more articles by Jimmy S
The Conversation
Follow the reactions below and share your own thoughts.