This Coronavirus pandemic has been a huge pain in the ass. Especially, cinema aficionados who used to hit the theatres in groups, have had to face some serious difficulties. However, Netflix has offered a solution in the form of its Netflix Party extension. Although, not as ideal as whispering in a friend's ear, and picking up popcorn from their lap, it's still better than nothing.  With Netflix Party, you can invite a group of friends that you normally go out to the movies with, and pass comments in a chatbox on the side. However, keep in mind though that every invitee must have his own Netflix account to set up Netflix Party. Otherwise, this arrangement won't work.
Setting up the Netflix Party Extension (Step-by-Step)
1. Go to the Chrome Netflix Party Extension page.
2. Click Add to Chrome.

3. Click Add Extension.

4. Make Sure the Netflix Party icon (NP) shows on the top of your browser.

5. Go to Netflix and Sign in to your Netflix Account.
6. Select the TV Show or Movie you want to Binge-Watch with your group. For this tutorial's sake, we're going to choose Money Heist, because it's all the rage nowadays.

7. Once, the TV Show opens, pause it, and click the NP icon at the top of your browser, and tap Start the Party button. You can also select the only I have control option here if you don't want your friends to pause or play the video, or mess with other functions during the video.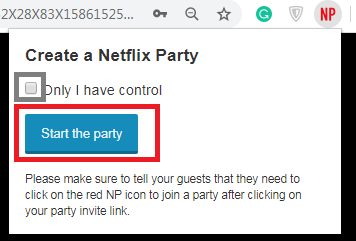 8. Copy the NP URL.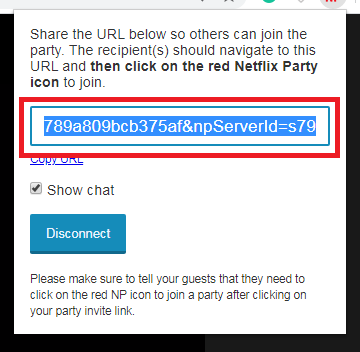 Send it to your friends who you want to join your Netflix Party.
Now, all you have to do is wait for them to join, and then you're good to go!
Customizing your Netflix Party
You can customize your Netflix Party to make add a little more flavor to it. Some functions you can perform are listed below:
Changing your Nickname
During your NP video, in the side chat box, click your display picture, and type a new nickname for yourself in the space below, and tap save changes.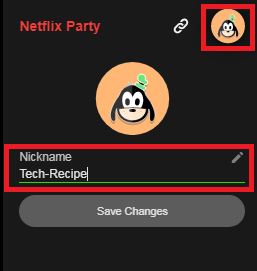 Changing your Display Picture
Click your Display Picture on the top, again. Click it once more in the window below, and select from a host of avatars as seen below.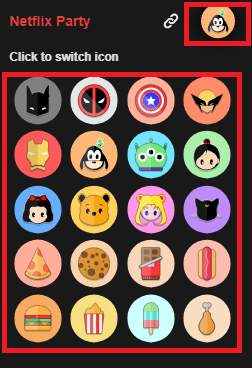 Netflix Party: Important Considerations
Make sure that once your friends click on the NP URL you've sent them, they click on the NP icon at the top of their browser to activate the URL.

For now, The NP Party extension is only available on Google Chrome, so if you have any other browser, you will have to switch.

This goes without saying: both you and your NP party invitees must have the NP extensions installed in their browsers.
Tech-Recipes Related to Netflix Party