In MS word, sometimes, a document launches into full-screen mode accidentally. For novices, who aren't familiar with the nitty-gritty of the application, this can pose some problems. For starters, accessing the toolbar, where the tabs are accessible disappears. This isn't an ideal situation, especially when you have to constantly open the review tab or some other MS word function. Similarly, sometimes, instead of the normal view, you need to launch your document into the full-screen mode for a better reading experience. Whatever situation you find yourself in, you can easily open and exit the full-screen mode in MS word. While there are many methods to accomplish this, they are complicated and time-consuming. Therefore, in this tutorial, we're going to outline only those that increase productivity and save your valuable time.
Opening the Full Screen Mode in MS Word
1. Open MS Word.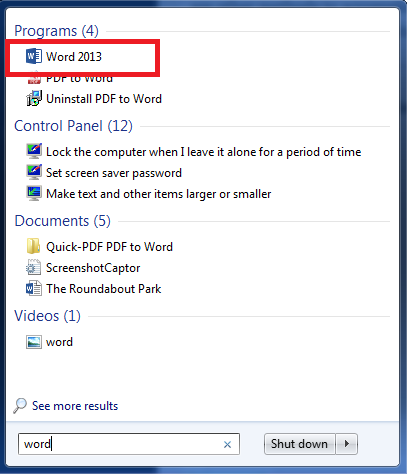 2. At the top of your document, in the top-right corner, click this Upward narrow.
3. Select Autohide Ribbon from the drop-down menu.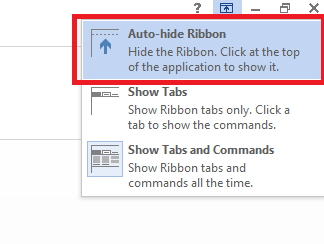 Keyboard Shortcut for Entering the Full Screen Mode
1. Press and Hold Alt + V.
2. When this message pops up at the top of your document, release the buttons and press U.

Exiting the Full Screen Mode in MS Word (Step-by-Step)
1. Open MS Word.
2. Move your cursor to the top of the document. A panel like this will appear.

3. Tap the Upward Arrow button.
4. Select Show Tabs and Commands from the drop-down menu.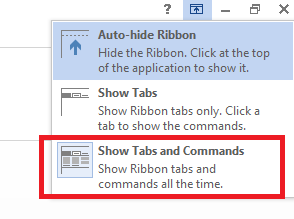 NOTE: Although this tutorial has been performed on MS Word 2013, it still applied to all the latest versions of the applications, including MS Word 2016 and 2019.
Frequently Asked Questions
Is there a way to fit the word document to the screen?
Yes, it's pretty easy. Go to the view tab, then in the Zoom section, tap Width. You can change the dimensions here to fit the your laptop screen.
Related Tech-Recipes