If you are the owner of several Facebook pages and some of them are similar, merging the pages may be a good idea so that it is easier to manage your information and keep all the notifications and messages from fans under control. Merging two Facebook pages can be done using a built-in tool in Settings. Continue reading to find out how.
Warning: Once you merge two Facebook pages, the process cannot be undone. Before you start, you may want to download a backup of each page if you want to keep the data separate.
1. Log in to your Facebook account, and switch to the Page account. You can do so by clicking on the small arrow at the top right of the window and selecting the desired page in the drop-down list.
2. Once you switch the account, click the Settings button at the top right of the window.

3. In the Settings screen, go to the General section. It should be highlighted as the first screen when you visit Settings.

4. At the bottom of the General settings list, you will find an option to merge pages. Click on it to expand, and choose the merge duplicate pages option.

5. You will then be asked to provide your account password. Facebook asks you for the password just to make sure that it is actually you who wants to merge pages.
6. In the Merge Duplicate Pages screen, select the two pages you want to merge using the drop-down menus, and then click Merge Pages. At this time, it is only possible to merge two pages at once.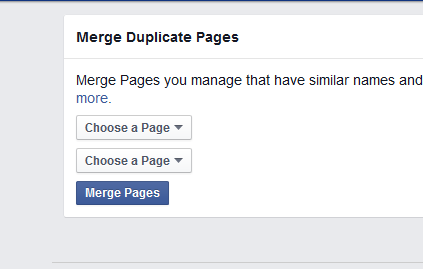 7. Select the page that you want to keep, and finally hit Confirm to process. The other page will be deleted when the merging process is complete. All likes and other information from the page you delete will be added to the page that you wish to keep running. If you still have more pages to merge, follow the steps above to merge that page to the newly merged one.