You can use bookmarks to create internal links in Google Docs. This is a useful feature to use if you have a long document with references to other sections within the same document. For example, you could write "As we discussed in section 4.2," and add a link to the bookmark in section 4.2 that you are referencing. This lets readers click on that text and jump to the bookmark instead of having to scroll through your document to find it. You can bookmark glossary words, figures, and more.
For those of you familiar with Microsoft Word, bookmarks are the equivalent of a cross-reference. You can think of them as one-way jumps from a link in your document to your bookmarked text. You can add as many bookmarks and links to your document as you would like. The purpose of using bookmarks should be to make your document more readable. Be careful not to overdo it: too many links in your document can be distracting.
1.In Google Docs, open your document, and highlight the text that you want to bookmark. This is where you want to jump to in the document or the end destination. Click Insert>Bookmark.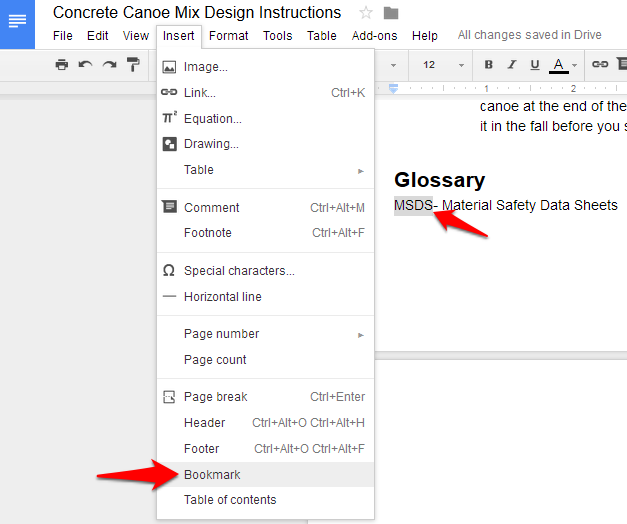 2.A small bookmark icon will appear at the beginning of the the line of text containing your bookmark. To Remove a bookmark, click on the bookmark icon, and click the Remove option that appears.
3.Now, you can set up links to your bookmark. Highlight some text that you want to make into a link, and click the Insert Link icon in the toolbar (or press Ctrl+K). In the Link section of the box that pops up, expand Bookmarks, and then select the bookmark you want from the list. Click Apply.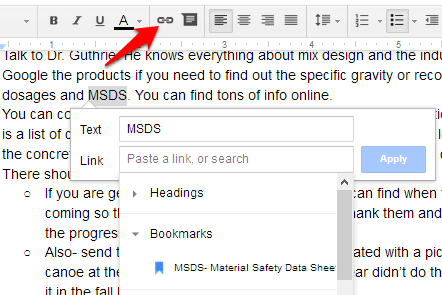 4.The linked text will now be blue and underlined in standard link formatting. Click on it to reveal options to follow the link (click the text starting with '#'), change the link destination, or remove the link.