By default, Firefox has location aware browsing enabled, allowing sites to request your geographical location and display content accordingly. If you do not want your physical location set to any site, you easily disable this functionality by following these steps.
1. Open Firefox.
2. Go to the address bar and input about:config.


3. Press Enter on your keyboard.
4. When the This might void your warrenty! message appears, simply click the I'll be careful, I promise! button.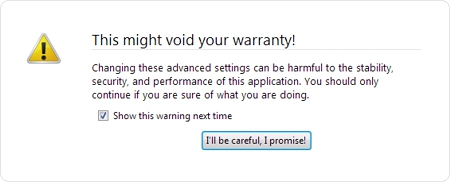 5. Locate and then double-click geo.enabled.
6. The value will change from true to false.


7. Restart your browser.