The Lenovo K320 from Lenovo (IBM) is one big powerhouse rig at a great price. For a web designer who relies on multi-tasking and big performance, this machine does it all and leaves me in the dust. Read the full review to see what makes this monster a great buy.
Specs/Overview
Model: Lenovo K320 30192PU Black
Price: $1099.00  (Free shipping when bought from Lenovo directly)
Processor: i7-870 (2.93GHz 1333MHz 8MB)
Ram: 8GB PC3-10600 DDR3 SDRAM 1333MHz
Graphics: ATI Radeon HD 5570
Hard-Drive: 1TB 7200
Drive: Blu-Ray
Warranty: 1 Year
Chances are you have never heard of Lenovo, but you should. They are the third largest PC supplier in the world. Still doesn't ring a bell? Lenovo acquired the retired IBM PC business in 2005. If you know someone who works in a corperate office, chances are they are using a Lenovo. Their big call to fame is their Thinkpad (remember, the IBM Thinkpad?) laptop for business. However, they don't just build computers for business. Think about it like this, a company that specializes in building rigs that companies DEPEND on–how do you think their computers for home use would stack up? I decided to find out. In summary, Lenovo = IBM.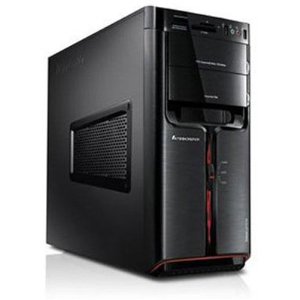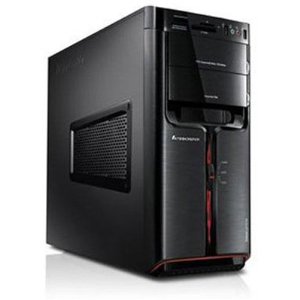 The K series is Lenovo's "gaming/performance" series of home computers. This rig is the cream of the crop for the K series. I decided to go all in or nothing.
Purchase/Unboxing
I bought this rig online direct from the Lenovo website. It shipped out 2 days earlier then stated and got here a few days faster. This instantly made me happy along with the free shipping. UPS delivered it in a box marked as a "Lenovo K320″ with a huge picture. Before I even got upstairs to open it, I was having a new electronic coma.
I unboxed to find a bunch of manuals, drivers disc, and my gorgeous new electronic. As fast as I could rip it out of the box, I had it plugged into my Vizio 23" HDTV and fired her up.
Physical Appearance
This thing is gorgeous. For a company that makes bland looking business computers this one actually looks really damn cool. The case feels very sturdy and has a nice metallic-like finish. The top front of the desktop though does have a cheep plastic feeling; however, the rest is solid. On the front top are two USB ports along with a mic/headphone input. SD/Mini-SD card slots as well. A good number of overall USB ports as well.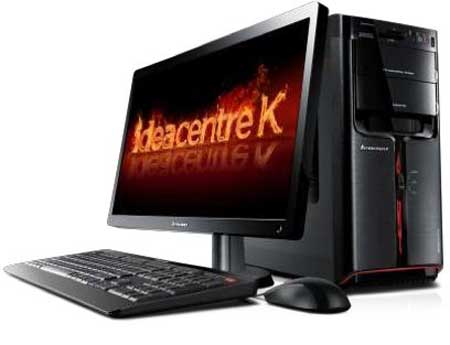 My favorite feature of them all (because I'm young) is the little turbo switch on the front. Flick it to cool and the front gives off a blue glowing flame strip. Want to play a serious game? Flip that puppy into "Turbo" and the front now glows a fiery red letting me know I'm unleashing the heat. This switch actually DOES adjust the CPU speeds, but at the end of the day it's mostly novelty. It does look really sweet.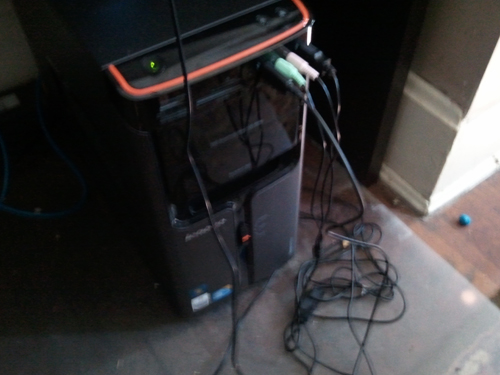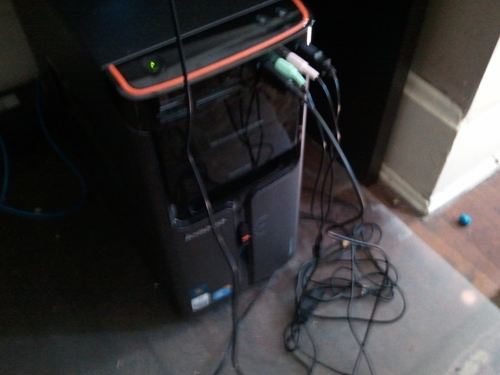 The desktop has an awesome side grill feature where you can see the internal components of the desktop. On the top is a built in handle as well, making it very easy to move. Plenty of USB ports on the back, the only thing that made me angry is only ONE HDMI output.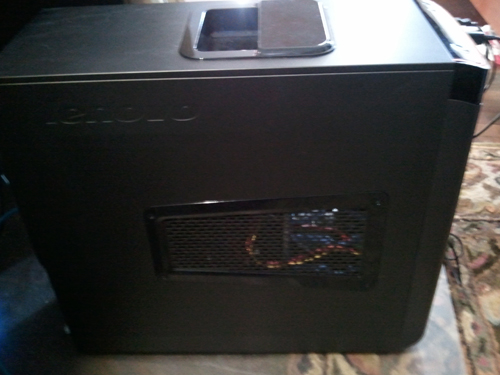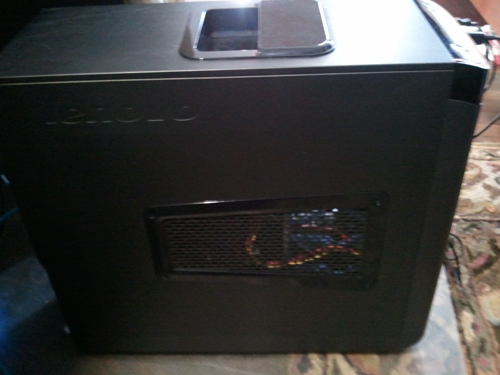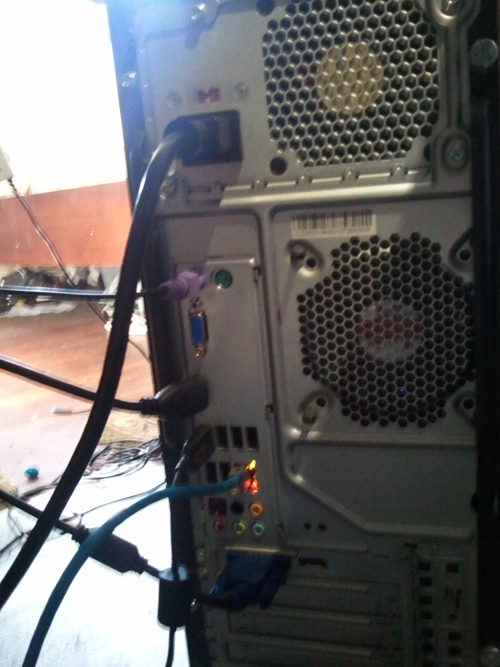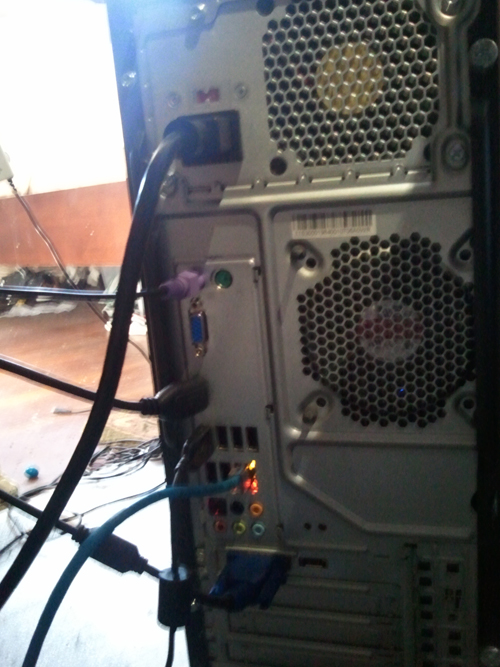 Bloatware/Startup
Setup was quick and fast typical for Windows 7. I was on the desktop within 60 seconds after firing it up for the first time. Right off the back I was welcomed by a weird little CPU Gauge (like a gauge you would find in a car) telling me how fast my CPU was running at. Neat, but that is about it. I quickly closed the Lenovo widget and looked through the damage.
Some Lenovo bloatware with a bunch of tools you don't honestly need were installed. You are allowed to create your virtual system back up which I recommended on all new systems. Other than that, I uninstalled just about every other piece of Lenovo software. There certainly was not as much bloatware as HP systems — wow.
Performance  – Gaming
Seeing as how the graphics card in this PC is only a few steps above the cheapest from Radeon, I didn't expect much. However, I was surprised by how well some games performed. I ran all of the following on HIGH settings to the max:
Call of Duty Modern Warfare 2
Sniper:Ghost Warrior
Battlefield Bad Company 2
Rift
Aion
Left For Dead 2
Counter Strike Source
The games performed flawless on these high settings without any hiccup. I was even able to have all my other programs open and switch between the game and Facebook FAST and quick.
Though the games do run flawless on highest settings, the graphics card isn't the best and you can tell. The graphics still look amazing, but with a better graphics card, they could be better. I will be updating the graphics card in the future. For now though, its great!
Scroll to the bottom of the page to see some in-game screen shots.
Performance  – Multitasking
Now to my true grit, multitasking. I use tons of power hog programs like Dreamweaver CS5/Photoshop CS5/Notepad++/3DS Max/iTunes/Chrome Browser with 20 tabs open/AIM/Skype/and so on. I was able to run ALL of these with no slow down at all.
Switching between programs was QUICK and fast. Lenovo just proved to me a web designer can do what he needs to do, without hiccup. There is nothing better then zooming around my computer while switched in turbo mode, making me feel like a real race car, er computer, driver?
Windows Experience Index
I received a 5.9 on the WEI  due to the Primary Hard disk rating of 5.9. But as you can see below everything else was beyond average.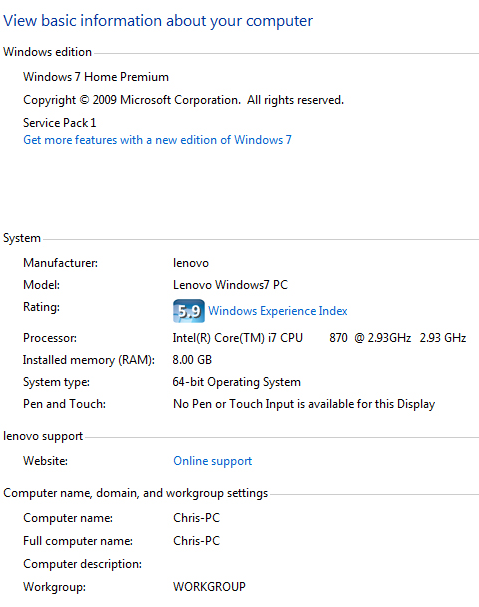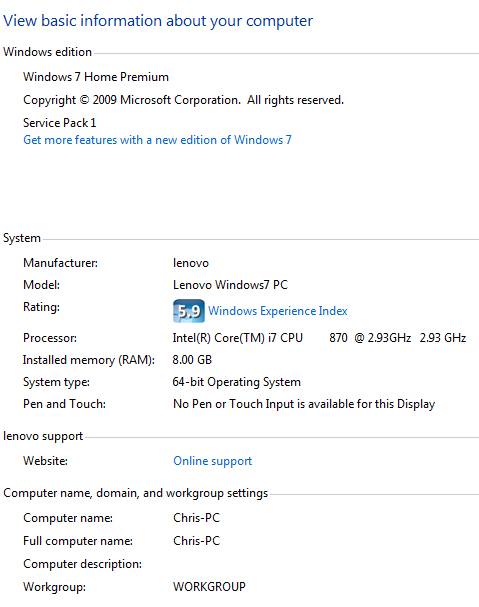 Final Thoughts
I've now had about a month with this desktop and can gladly say its the best I have ever owned. I will definitely be buying my next desktop in a few years from Lenovo. It is an outstanding quality machine with great performance for a decent price. Knowing I'm in the good hands of IBM/Lenovo helps me sleep better at night (with my K320 at my side).
The only thing I want to upgrade is the graphics card. Like stated its not BAD but its not great. Games still running gorgeous, but I believe they could be better. Another issue is there is only enough slots for 8GB RAM. (It comes completed filled with 8GB.) One should not expect to be able to beef up the RAM easily, but 8GB RAM is plenty for now.
If you are in the market for a new PC that can game/multi-task at around $1K, look no further than this beast.
Here's a quick youtube video showing the highlights and performance of this system.
Pros:
Decent price for what you get vs. other performance desktops on the market
Lenovo is a great brand backed by a great warranty
Super Fast free shipping from Lenovo
Great multi-tasking performance
Great gaming on high settings
Blu-Ray Drive
Handle on top of case
Throttle switch and lighting colors looks cool
Cons:
Graphics card is a little under par
Only 1 HDMI output
Hard disk could be a tad better
Can only hold 8GB RAM
In-Game Screen Shots:
Had to scale the size but they are running on a 1920×1200 resolution. Click thumbnail to make bigger.
Rift: Ultra Settings (above high)
Left For Dead 2 : High
Call of Duty: Modern Warfare 2 : High