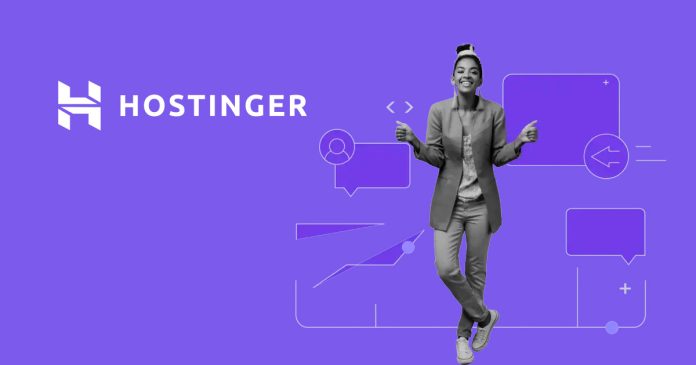 Are you looking for a hosting provider who offers reliable shared hosting services? Then, you are on the right site. Hostinger is a powerful platform known for an array of hosting services. The platform offers top-notch services at a pocket-friendly price. Hostinger shared hosting allows multiple sites to use the same server resources.
Sharing server resources resembles an individual who rents a unit or apartment shared among roommates. In this apartment, roommates will share the same amenities making their stay affordable. Shared hosting is an affordable option favourable to individuals, small organisations, or enterprises with small and medium-sized websites. Continue reading this comprehensive guide for an in-depth overview of Hostinger shared hosting from its features to answers to some frequently asked questions about this hosting platform.
Hostinger Shared Hosting Overall
Hostinger sits amongst the best hosting providers that offer a variety of shared hosting plans to its clients. However, with this most basic hosting tier, your website shares a server with several other websites.
The platform is known for its lightning-fast speeds, advanced features and excellent global support team. Yet because of sharing server resources amongst several sites, its prices are amongst the lowest in the market.

Furthermore, Hostinger has three shared web hosting plans: single, premium, and business. For a single plan, you will pay a monthly fee of $1.99, where users must show a commitment for 48 months to enjoy a much more discounted price offer. This action works best for those who have a minimal budget and are looking for a great hosting provider. With premium shared hosting, you will experience all the offers you get on a single plan with an additional feature. However, if you are looking forward to a higher shared hosting package, then the business plan may be the right option.
Shared hosting has many benefits for users who want their journey online to be simple. As a user, you get to enjoy your online journey with a fraction of the cost other hosting users contribute to maintaining their server. Shared hosting is easy to manage, and no prior experience is needed when setting up and managing your website hosting.
Shared hosting is recommendable for a range of users. This platform is a better option for blogs, web development for beginners, WordPress, or new websites that are looking for quality hosting service at an affordable price and are expecting higher traffic. Although you will share the same server, what you choose to do on your platform does not affect others use or site. If you are looking for an all-in-all shared hosting platform, Hostinger will accommodate your website needs.
Pricing

If you are looking for shared hosting with prices that stand out, Hostinger prices are competitive, if not the best. Where can you get a hosting provider charging $1.99 a month? The price is low and can accommodate everyone.
The objective of Hostinger is to let everyone sign up for a long-term period without necessarily offering any incentive. Nonetheless, Hostinger offers four payment schemes: monthly, yearly, bi-yearly and quadrennially.
If you want to take advantage of their pricing incentives, you can opt for a four-year signing and experience the best price you can get from a shared hosting platform. Besides, the best you can get from Hostinger competitors is the price offered on an annual basis. That is why it is vital to do your math before you engage in any hosting plan.
When you opt to settle for monthly plans, the setup fee will not have any financial advantages, nor will the bi-yearly and annuals plan to help you maximize costs. Nonetheless, if you opt for single hosting, you will pay $1.99 monthly. For premium web hosting, you will pay $2.99 per month, and for business web hosting, you will pay off $3.99 per month.
It is a good note that value-wise, Hostinger shared plans meet all the laid-out industrial standards. Besides, they offer a 30-day money-back guarantee to their new clients. This feature enables a client to test the service and assess whether they suit their need.
Types of Hostinger Shared Hosting
Shared hosting is the most affordable hosting option with Hostinger. It is beginner friendly and is most suitable for small and mid-sized websites. One of the best things about shared hosting by Hostinger is that it offers multiple plans to its customers. You can choose single shared hosting, premium shared hosting, or business shared hosting.
Which plan is ideal for you? That will depend on your hosting needs. Each plan offers different features and has different costs. Usually, the pricing in each plan reflects its set of features and the number of included benefits. Below are the three types of Hostinger shared hosting explained.
Single Shared Hosting
One of the types of Hostinger shared plans is single shared hosting. It is the most affordable plan starting at $1.99 per month. It is most suitable for website development beginners, users with one personal blog and WordPress, and other CMS users.
Building your website while hosting with the Single shared hosting is absolutely easy, thanks to the website builder tool. Also, with this plan, you can only host one website and email account.

Once you host with Hostinger single shared hosting, you receive 50 GB SSD storage, 10,000 visits monthly, and 100Gb Bandwidth. Moreover, you will get two cronjobs and can create 1 FTP account and up to two subdomains.
Furthermore, you don't have to worry about the security of your website and customers when hosting with this plan. That is because it offers several security features, including unlimited free SSL, weekly backups, and Cloudflare-protected Nameservers. Moreover, it provides managed WordPress, WordPress acceleration, DNS Management, and Access manager. It also has a superb uptime guarantee of 99.90% and provides 24/7 support.
With its 30-day money-back guarantee, you have an entire month to try out this entry plan risk-free. If you don't get the included benefits, you are sure to get your money back. However, Single Shared Hosting does not offer a free domain. Therefore, you will be required to register a domain name if you don't have one.
Major Features
Unlimited Free SSL
One website
One email account
100GB Bandwidth
10,000 Visits
2 Databases
1 FTP Account
Two subdomains
Premium Shared Hosting

If your website grows while using Hostinger Single Shared Hosting, you might need more advanced features. Fortunately, Hostinger Shared Hosting allows users to upgrade to their hosting plan easily.
Premium Shared Hosting offers more features than the single plan and has a starting price of $2.99 per month. This plan is the most suitable option if you have several medium-sized sites that you want to host with one plan.
Also, it is a good option for WordPress users, CMS users, and users with multiple small online stores or blogs that do not utilize resource-intensive plugins and themes. With this Hostinger Shared Premium plan, you can create and manage up to 100 websites. It also offers unlimited bandwidth, unlimited FTP accounts, 100GB SSD, and up to 100 email accounts. Unlike Single Shared Hosting, Premium Shared Hosting offers a free domain name for one year.
In addition, with this plan, you also receive 24/7 support via email and live chat. Also, you get weekly backups, unlimited Free SSL, Cloudflare-protected nameservers, and a 30-day money-back guarantee. In addition, it provides GIT and SSH access. Further, with premium Shared Hosting, you get unlimited cronjobs, 100 subdomains, an access manager, and DNS management. You also get a website builder and enjoy a 99.90% uptime guarantee.
Major Features
Unlimited Free SSL
100 websites
Free email account
Unlimited Bandwidth
25,000 Visits
Unlimited Databases
Unlimited FTP Account
100 subdomains
200 GB SSD storage
Business Shared Hosting
Business Shared Hosting is the advanced Hostinger Shared Hosting plan. The plan has a starting price of $3.99 per month. This hosting plan is most suitable for users whose hosting needs have overgrown single and premium plans.
If you have several medium-sized eCommerce sites or plenty of blogs you want to host, this plan will be ideal. With Business Shared Hosting, you get a WordPress staging tool, 200GB SSD storage, unlimited bandwidth, and unlimited databases.

Also, the plan offers its users free SSL, free email, and daily backups. You also get a free domain name for one year and an uptime guarantee of 99.90%.
As is in other plans, if you are unhappy with the services, you can receive a refund within thirty days of signing up. Also, with Business Shared Hosting building, a new website from scratch is a blaze, thanks to its drag-and-drop website builder. With that tool, you can easily customize your website even if you don't have any technical knowledge. Moreover, you can reach the hosting provider anytime if you encounter any issues. They offer 24/7 customer support via email, phone, and live chat.
Major Features
Unlimited Free SSL
100 websites
Free email account
Unlimited Bandwidth
100,000 Visits Monthly
Unlimited Databases
Unlimited FTP Account
100 subdomains
200 GB SSD storage
WordPress Staging tool
Features

In simple terms shared hosting uses one server to store several hosting data for multiple websites simultaneously. Its features are ideal for blogs, news websites, e-commerce stores, and WordPress users.
Shared hosting features help people who want to progress their journey online. One factor that makes shared hosting a popular plan amongst its users is its low cost. With the cost of maintaining server resources distributed amongst many users, this action drives the initial price down.
Also, running a shared hosting server does not need any technical skills. Besides, shared hosting comes with a hPanel to help you manage and pre-install programs that accommodate your general website.
However, host providers carry out any server maintenance and installation of updates. Here are some of the features associated with shared hosting.
Custom Domain
There are a million reasons businesses or individuals with blogs site should have a custom domain for their website, even when their website means fun. You cannot afford to lose your site address, an occurrence that is common with free website builders.
Hostinger shared hosting allows you to have a custom domain. This action makes it possible for your clients to return to your site easily. They can use your bookmark website link to access your site without encountering an error page. Custom domains help business to publicise their site to win new clients daily.
It is good to note that search engines prioritise platforms with customised domain names rather than sites with sub-domain names. Hostinger shared hosting encourages small businesses and individuals to own websites with the customised domain name.
Free Email
Both Premium and Business Hostinger shared plans enjoy free customs emails, but this should not limit your business when you want to leverage your emails. Hostinger will rent out email servers to give its clientele a professional touch. Custom email address helps to establish your firm as it builds a strong brand image. In addition, hosted an email address offers firms specialized IDs featuring their firms.
If you do not want free emails, Hostinger offers two email plans; business and enterprise. For a business plan, be ready to pay $0.99 monthly for ten GB storage and two mail filters, while the enterprise plan will cost you $2.49 monthly for unlimited mail filters and 30 GB email storage. Both plans offer their clients 50 email aliases.
Support
Reliable customer support is an essential part of a good hosting provider. Imagine your website crashing abruptly or having an issue only your host can solve. You will need to contact support via email, phone, or live support to address your issue as soon as possible.
Hostinger has a reputable customer service that responds to any query within 30 to 60 minutes. Some people consider this response slow, but it is not worse off. Accessing the Hostinger support team via live chat is easy and fast, regardless of your situation. Their support team is humble, polite, and ready to help.
Besides, the client can access their free tutorial and further contact their agent if they want clarification.
Security
Any hosting provider needs a robust security system to safeguard their client data. A good security infrastructure offers your server additional protection to remain safe. At Hostinger, the company provides an advanced security protocol such as firewalls, Monarx anti-malware software, and PHP open basedir protection to ensure your data is safe.
Besides, you will enjoy automated regular backups and live snapshots you can use to restore your sites once it goes down. Furthermore, the host run offers free SSL certificates and conducts frequent monitoring processes to identify any malicious activity. As a result, Hostinger is pretty safe to host your website as their server's security is guaranteed.
Control Panel
Hostinger Shared plans require a cPanel that is easy to use, reliable, and has all tools that are required for your site with easy. cPanel comes with a range of useful features that help a user perform their task, data tracking, MySQL, website files, stats, and other site management tasks. However, Hostinger has its custom control panel known as hPanel.
This tool is very effective for users who want to easily manage their accounts without unnecessarily logging into a server. hPanel uses a uniquely intuitive and minimalistic design that allows users to understand and navigate their site more quickly.
Free Trial
Hostinger shared hosting has a free trial package that enables new clients to taste how you can improve your business without incurring any cost. Free trials go for 30 days, during which you will enjoy all the key features. Also, you will have ample time to try out all features without paying any upfront. However, the free version has limitations, such as limited storage and emails. You will not need a credit card to activate a free trial.
Once registered with Hostinger, you will get a free trial immediately. A free trial will allow you to access the control panel and perform other third-party integrations. Also, it guarantees a WordPress and streamlined user experience to its clientele. It is good to note that getting the most in Hostinger shared plans will cost some money.
Money-back guarantee
In case you are not satisfied with your Hostinger shared hosting, you are given a chance where you can get your money back after thirty days. This feature greatly benefits those clients who like sitting on the fence and are not confident about Hostinger's shared plans. They are guaranteed 30 days of free hosting. However, if you paid your subscription through crypto, you are not eligible for any re-refund. Also, the money cannot be refunded if the payment was made during the free trial period.
Nonetheless, thirty days is the standard web hosting promise that many hosting providers offer their customers in case of a change of mind. To get your refund, open the chat window from your cPanel and adhere to the few steps.
Performance
Shared hosting plans from Hostinger are reliable with speedy loading times. The site has achieved a 99.98% uptime, with most months experiencing a 100%.
This uptime is significantly better and is acceptable. This hosting platform does not disappoint when you test the load speed. Hostinger has a speedy LCP of 0.607 seconds, leading to its competitors. Nonetheless, speed checks are equally vital, especially when the site is busy.

The site can handle more than 15 requests per second which is a good result for a hosting provider.
Speed
A fast site is essential for the success of your online business. Also, it improves your SEO experience. Before engaging in any hosting platform, you must measure the website speed using reliable online software.
A recent study called "milliseconds make million" showcases that a mere 0.1s change in load time can influence a user's opinion and influence toward a site. In return, it will increase your conversion rate chances. On the other hand, as your page increases from 10 seconds, there is a higher probability of clients visiting your site and exiting before they get what they were looking for.
When your website is fast enough, it will encounter a lesser bounce rate, and your visitor is encouraged to stay longer. This action improves your visitor experience and gives you a higher conversion rate.
Uptime
Most cheap web hosting platforms look juicy on the surface. But are not worth investing on because of poor uptime rates. Uptime is an essential thing you should check when considering a web host's services. Hostinger shared hosting has a recommendable uptime rate which exceeds your expectation.
This platform delivers a 99.98% uptime over the year. Hostinger delivers a high of 99.99% and a low of 99.97%. Besides many months you will receive 100% uptime, an occurrence that will exceed your expectation about this platform. That is why Hostinger shared platforms are good for persons with small websites that attract minimal traffic.
Response Time
Do you know? The content you upload on your site directly impacts your site loading time. For example, if your site contains a large number of images, it will cost your clients more time to access your information. Images normally account for a bigger pie of downloadable bytes on a site.
To get accurate data, it's vital to analyse your page loading time using the available tools online. The loading speed of your site should be accessed at least from three global locations. The speed on each location should be measured three separate times, and then the result will help you know the mean response time.
Load Time
A good hosting provider should have a fast page loading time to better user experience. It is discouraging when you open a web page only to get stuck as the site struggle to load. A reputable site should take less than three seconds to load.
Hostinger shared hosting offers its clients in the USA, UK, and Asia 1000 mbs connection; such a feature ensures that the loading times are stable and fast. However, this hosting firm is known to deliver a mean page loading time of 307ms, an action that makes it sit comfortably amongst the ten fastest hosts we have in the market. The industry average for a reputable page loading speed is closer to 900ms.
Ease of use

Hosting a site when you have zero experience may seem like a mirage, especially when you don't have any technical knowledge. This is why Hostinger shared hosting uses a simplified setup and management system on your website.
Nonetheless, after you decide which plan to acquire, setting up is simple, even for newbies with no prior experience. Hostinger will help you set up a shared server, monitor the server to keep a constant uptime and install and upgrade all the necessary software.
Also, Hostinger helps you take care of the backend challenges, track logins, manage your domains, update billing data, and keep a constant check on your emails from your dashboard. That is why, even with zero coding, your site will be up and running.
Besides, this hosting platform is a modern, user-friendly interface that allows you to locate everything you need in one location. Nonetheless, its cPanel is not convectional and has a prominent icon, making it easy to locate and find what you need. Although advanced users may not see the benefits of a good control panel, you will find your way around if you are a newbie. This action is one of the good reasons why cPanel is a great tool that helps you get your site up and running.
Which Hostinger plan is the right for me?
Hostinger is a trusted name in the industry. The firm offers cheap web hosting solutions for small sites. Even though it has an array of hosting plans, such as cloud hosting plans and VPS hosting plans, among others. For me, I would choose shared options.
The business shared plan is very reliable for personal blogs and small websites. Shared plans are cheaper options for any business as they don't need you to make many hardware investments. Also, you will not need to incur additional costs to maintain your server resources.
Furthermore, the business shared plan will help save you money if you are a new blogger. Also, as your traffic grows, it limits you to scale to a more advanced plan.
Some of the key features associated with business-shared hosting platforms include free SSL certificates, MySQL databases, email accounts, metered bandwidth and SSD storage.
This business shared hosting plan is known for the following advantages.
excellent speed
easy to set up
WordPress Support
money-back guarantee
99.8 uptime
365 chat support
User-friendly hPanel
Unlimited email
Just like any other host, business shared hosting has its limitation. Here are some of the cons:
Refund exceptions
Limited support
Limited resources
Final verdict
Hostinger shared hosting boasts as the best hosting platform to help you save money. This hosting platform is the best for new bloggers or small businesses who want top-notch hosting services at a cheaper rate. Also, this hosting company is known to deliver affordability to simple websites and offer a chance to upgrade to a more robust plan when the site expands its traffic.
When you enrol on any of the three shared hosting plans (business hosting plan, premium hosting plan, and single shared). Be ready to enjoy unique features, which include; decent uptime with a 99.90% guarantee, live customer support, a money-back guarantee, and excellent speed, amongst other fantastic perks.
It is good to know that all shared plans come with a free SSL and website builder. This idea is excellent, especially for newbies who want to build their site from scratch. Besides, with its drag-and-drop website builder, you can easily customize your site without software development expertise or knowledge. At the starting point, shared hosting provides its users with awesome templates for you to use as a starting point.
Nonetheless, with their customized hPanel, a user can manage the accounts, create MySQL databases and carry out many other tasks through their site.
---
FAQ