Choosing a background for your WhatsApp chats can truly brighten up your day. You can choose different sorts of media for a wallpaper, from a personally owned image to a solid color to WhatsApp's own wallpaper collection. It's not just a creative, fun feature, but an easy one at that, too. The process follows the same steps whether it is a group chat you are setting a wallpaper for, or a single contact's chat. So, find out below the easy and quick method of how to change your background on WhatsApp. Steps shown are for the Android version of the app.
Changing Your Background on WhatsApp – Method 1
1. Open a new WhatsApp chat OR an already existing chat.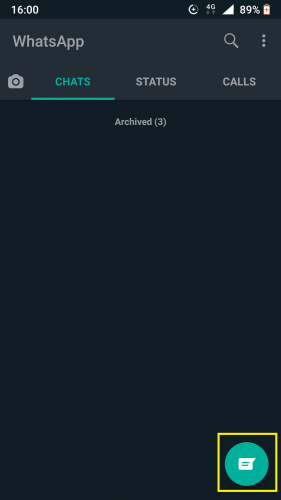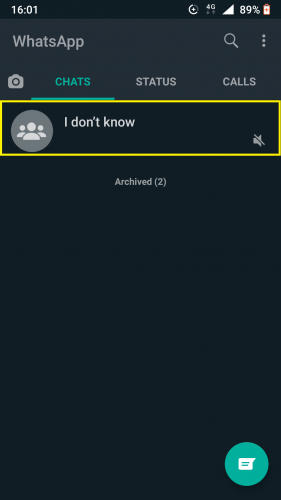 2. Tap on more icon from top-right corner.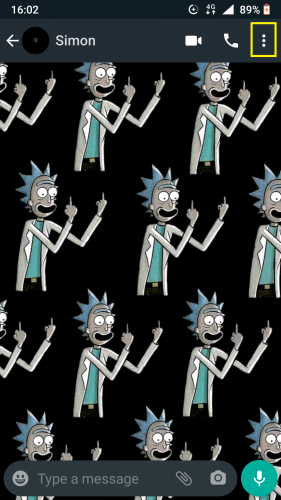 3. And select Wallpaper.
4. To set a plain color as background, tap on solid color.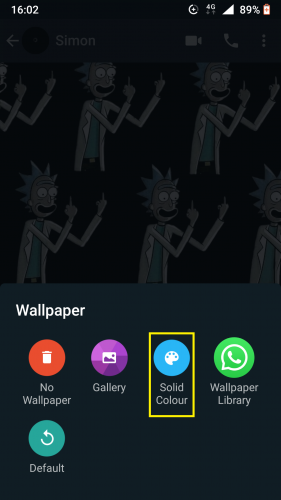 5. Pick your desired color.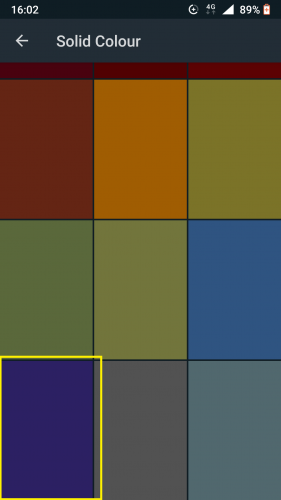 6. Swipe to see other colors.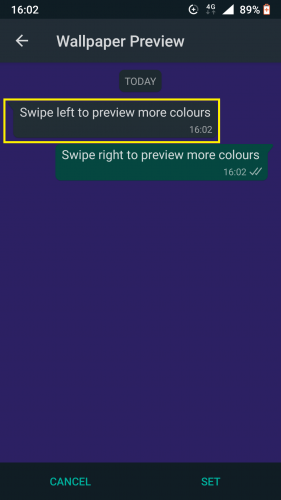 The background color will change when you swipe.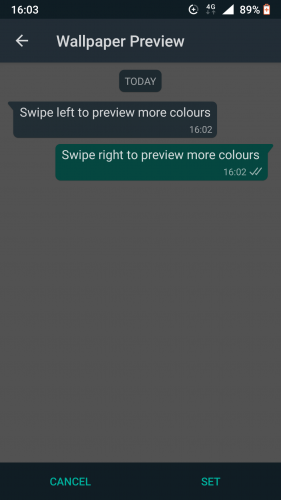 7. Tap SET when you've chosen a color you like.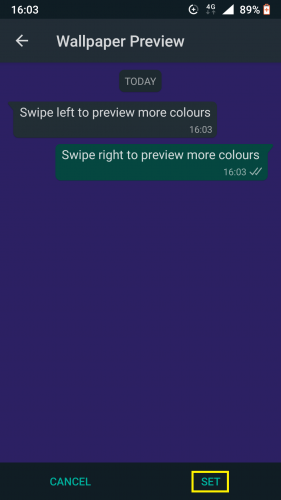 8. To set an image as background, tap on more > Wallpaper > Gallery.
9. Select image from your device's media gallery.
10. Pinch to zoom out on image.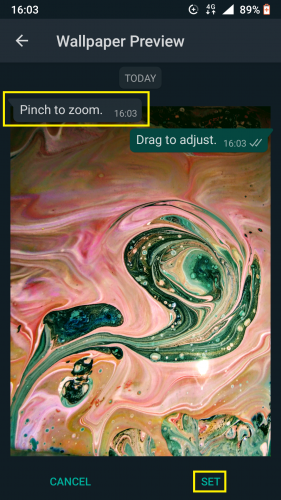 11. Double-tap to zoom in on image.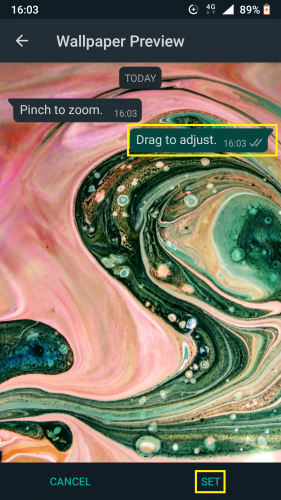 12. Once it's set in desired position, tap SET.
WhatsApp's Own Background Wallpaper Collection
You can also choose a wallpaper from the amazing collection WhatsApp has on the Playstore. For this, you will have to install the Whatsapp wallpaper collection app. To do so from within WhatsApp:
13. Tap on a chat's more icon > Wallpaper > Wallpaper library.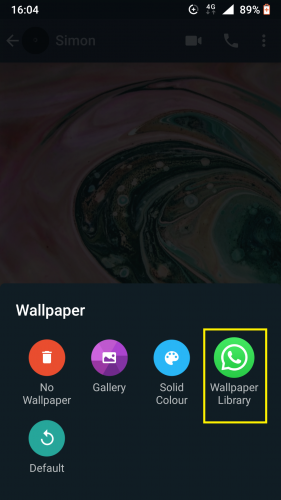 14. And hit OK.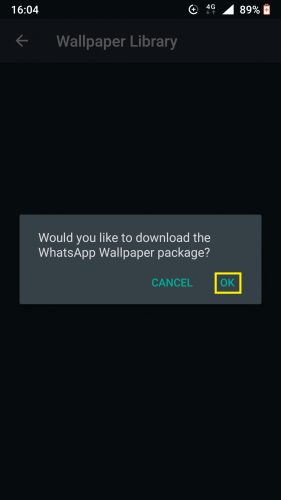 You will be redirected to the wallpaper collection app on Playstore.
Changing Your Background on WhatsApp – Method 2
You can also set your chats' wallpapers in WhatsApp from chat settings. In order to do so:
1. Open WhatsApp.
2. Tap on more icon from top-right corner.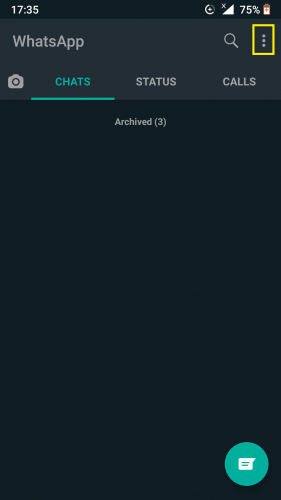 3. Select Settings from the list.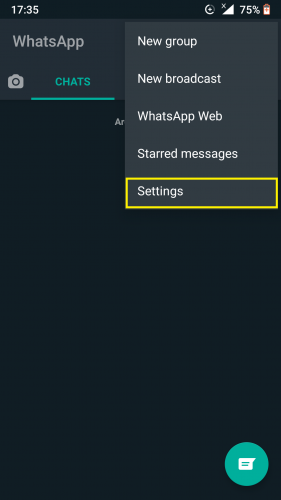 4. Tap on Chats > Wallpaper.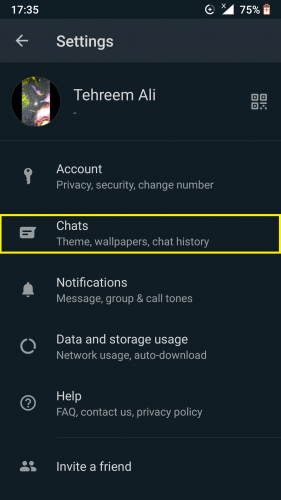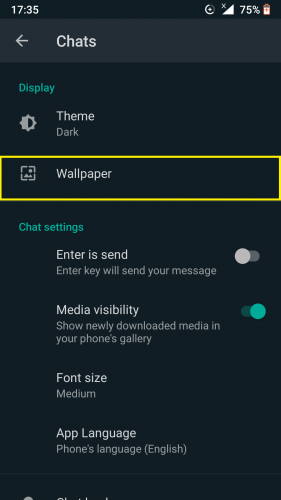 And follow the same steps as in the above method from here on out.
Things to Keep in Mind
Setting a wallpaper for one chat sets it for all contacts' chats. And group chats are also included in that. Once you set a wallpaper, that media file is automatically saved in your device by WhatsApp, in a folder titled 'wallpapers.'
You can always go and delete that folder from your device, of course. And no, that won't remove your wallpaper from WhatsApp chat. Last but not the least, you don't even need Wi-fi to set a wallpaper! You can set or even remove one already in place offline.
Now you can brighten up the chat space on WhatsApp with vibrant colors, amazing photography and wallpapers that liven up the app's chat interface. It's easy; fast; fun and it's offline!
More Useful Topics
How to Reset and Share Your WhatsApp QR Code (Latest Update)
Scan WhatsApp QR Code to Add Contacts (Latest Updates)
How to Save Mobile Data When Using Whatsapp