Many users have squared their cannons at Facebook for its lax privacy controls. Remember the Cambridge Analytica Controversy, which led to Zuckerberg's grueling session in the US Senate? Yeah, that was a real mess. I guess these things finally culminated in Facebook taking some serious action. With the introduction of Facebook Off-activity, you can now control data you share with apps and platforms. In this article, we will deal with everything there is to know about this new tool. How to use Facebook's activity tool? What does this tool actually do? How does it work? And other usage-related questions.
What is the Off-Facebook Activity Tool?
Remember how third-party apps always ask for permissions before launching? And you had no clue as to what kind of information they were feeding on? Well, with Facebook's off-activity tool, this is going to change.
Using this new feature, not only can you see and monitor the information you share with apps and platforms, but you can also control it. It has an in-built privacy section, which lets you clear the history of data shared by apps and websites. Furthermore, it also gives you the power to grant some select companies to share your activity, and bar others.
This ensures that you are in complete control of the information you share with Facebook's platform.
Accessing Facebook's Off-Activity Tool
1. On your Facebook homepage, click the downward arrow at the top.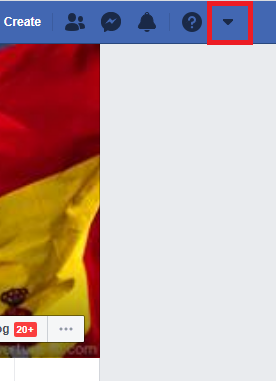 2. Choose Settings.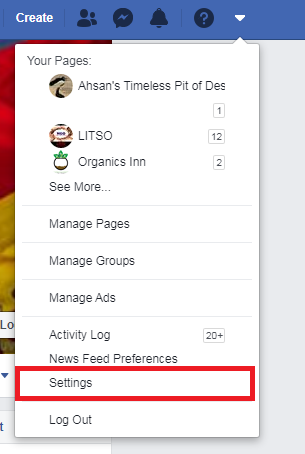 3. Go to Your Facebook Information, located in the side-panel.
4. Tap Off-Facebook Activity.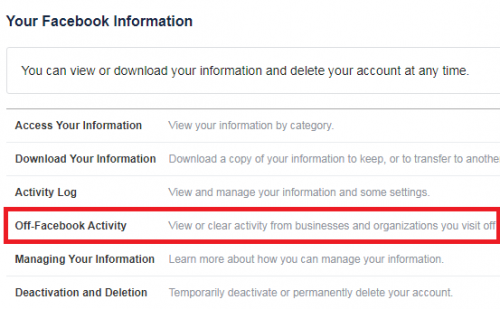 5. Finally, type your Password to access the tool.
Managing Off Facebook Activity
Denying Permission to an App/Website to Share your Information
To manage any activity that is "OFF" Facebook, here's what you have to do. Once you have accessed the tool, a page will show up, listing every app that has shared your information with Facebook, so that it can personalize your experience.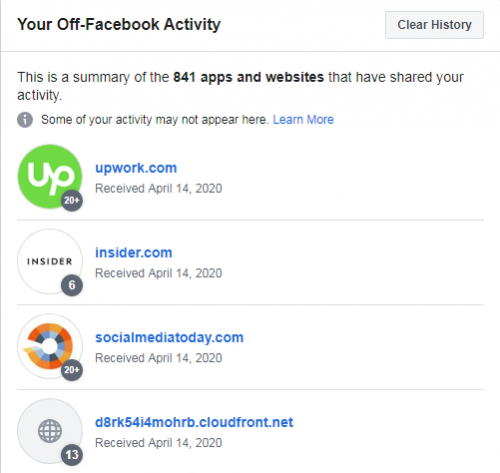 To deny any of these apps the permission to share data, click on them. For this tutorial, we will tap Upwork. Then, we will select the option that says " Turn off future activity from Upwork.com", as shown below. Upon choosing it, any activity that you share with Upwork will not be relayed to Facebook. You can do this with any app, or website to have better control over your data.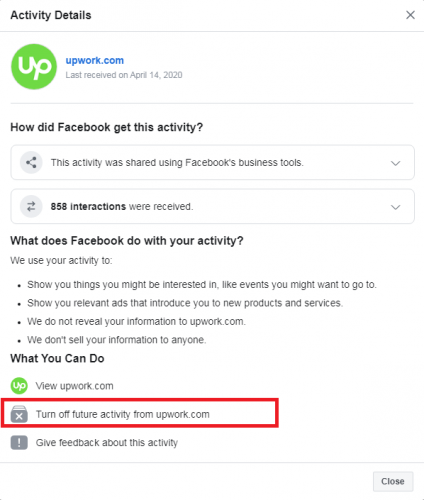 Clearing your Off-Facebook Activity History
You can also clear the data you've shared with apps and websites in the past. However, beware that treading on this path will mean Facebook will not be able to show advertisements relevant to your past shopping or browsing history.
On your Off-Facebook activity main page, on the right, there's an option: Clear History. Select it.

A dialog box will appear. Tap Clear History once more at the bottom.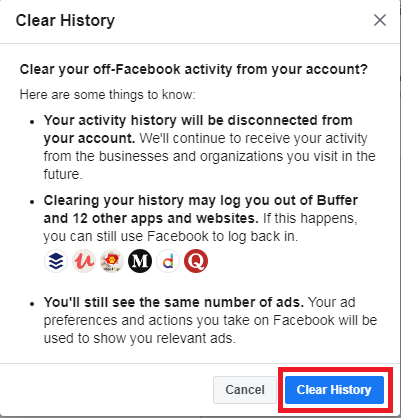 Managing your Off-Facebook Activity
To tailor this tool to your preferences, there are a variety of functions you can perform, including downloading a PDF file of your Off-Facebook app and website activity and managing it to ensure it's according to your liking in the future.
To manage your activity, on the same homepage of the tool, on the right above clear history, tap Manage your Off-Facebook History.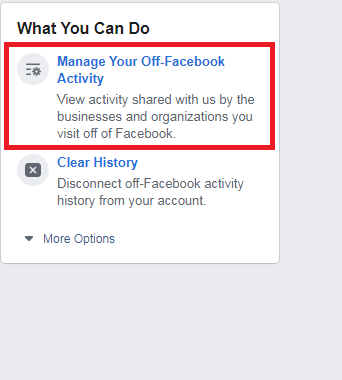 In the next window, three options will appear on the right as shown below.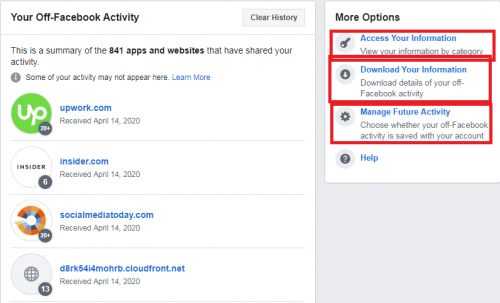 The first option: access your information, display off-Facebook activity according to type. For instance, if you want to review the activity you've shared as a post, there's a separate section for that here. Similarly, there are other categorizations like Photos and Videos and Groups.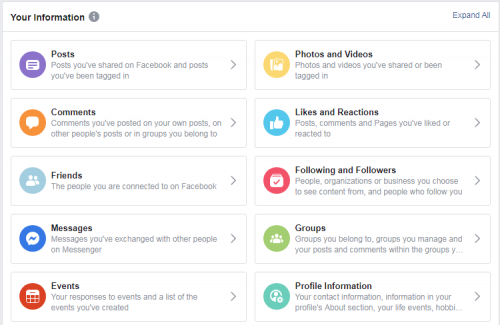 In the second option: download your information, you can download a detailed report of your activity onto your computer in the form of a PDF file. This can especially help businesses figure out which apps and websites they should target more for a more effective marketing strategy.

Finally, you can manage your future activity. Here you can completely deactivate your Off-FB activity, or view your activity of apps and websites you have turned off. Choosing the first option may render FB incapacitated as it will make data collection to personalize adds impossible.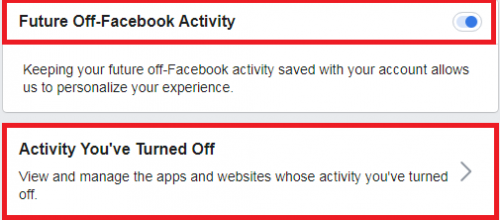 This is a comprehensive guide to use the new Off-Facebook activity tool and covers everything from management to accessibility. I don't think you're going to have a problem with protecting your FB privacy with this in-depth tutorial at your immediate disposal.
Related Tech-Recipes