Samsung released its first Android tablet The Galaxy Tab to Europe on Oct 11, 2010.  It finally hit the USA on November 10, 2010 being offered with data services for T-Mobile.  Sprint, Verizon and AT&T versions soon followed in the rest of November.  The Galaxy Tab has been touted as being the first real iPad competitor.  In this post, I'll do a hardware comparison between the iPad 16GB Wi-Fi+3G and the AT&T Galaxy Tab 16GB.  Keep reading for the specs and photos.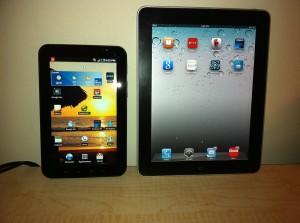 We'll do this comparison in several steps and give comparisons of both devices.  I chose the 16GB Wi-Fi+3G iPad since the prices comparison and feature set make them very comparable. Also, the iPad in photos was a Wi-Fi only version (just sold my iPad 64GB last weekend) but only difference physically is the black top where GSM/3G Antenna is.  Lets get started!
Build Quality / Size:
This is a tough one since each device has its own feel and does a good job on each end.  The iPad is one the most solid feeling devices I've ever used; it has zero flex and oozes of a fit finish.  However,with the use of aluminum vs plastic, you add weight and over longer periods of time it can add up.  The Galaxy Tab has zero metal and is completely made of plastic minus the screen. The AT&T version has a black backside with a subtle checked pattern while the edges feel more of a velvet plastic (like the Sony K810 backside).  The Galaxy Tab has a much warmer feel to it and is noticeably lighter than an iPad (due to its smaller size).  I've noticed so far that I seem to be more willing to take my Galaxy Tab out the door with me than my iPad due it fitting into my coat pocket.
Physical Button layouts on both devices are similar with power button location being the main differences between the two. The Galaxy Tab's power is on the side, just above the Volume buttons.  I have noticed myself hitting the power button on accident when holding the Tab with one hand.  The iPad has the classic iPhone-ish top power button.  I do notice hitting it when putting the iPad in my bag or sleeve.  Both have their quirks in placement.
Manufacturer Specs:
iPad (AT&T, WI-FI+3G)
H: 9.56 inches (242.8 mm)
W: 7.47 inches (189.7 mm)
Depth: 0.5 inches (13.4 mm)
Weight: 1.6 lbs (0.73 kg)
Galaxy Tab (AT&T)
H: 7.48 inches (190 mm)
W: 4.76 inches (120.9 mm)
Depth: 0.47 inches (11.9 mm)
Weight: 0.8 lbs (0.37 kg)
Screen Display / Touchscreen:
The Galaxy Tab unfortunately does not use an AMOLED screen as previously hoped/rumored but it does use a 7.0 WSVGA TFT running at 1024×600 px resolution.  The iPad in comparison uses a 9.7 inch LED display running at 1024×768 px.  In regards to touchscreen responsiveness, its a draw in my opinion.  Both touchscreen respond very well. I have not ran any official benchmarks on either so I can not say from a technical standpoint; however in real world testing they are equal.  Only touchscreen issues I had on the Tab were related to application issues instead of hardware ones.  The Tab's display looks very sharp, and movies in 720p looked very nice.  Photos also display well on the Tab, however, the iPad size wins here as it is bigger and more ideal for photo viewing.
Both screens attracted fingerprints just as much as the other–a lot!  The Galaxy Tab's screen seems to be coated and should be somewhat scratch proof (minus sharp metal type objects).  I prefer having no screen protector which ruins the look in my opinion.  Also, both screens are glass based and the Galaxy Tab uses a Gorilla Glass display.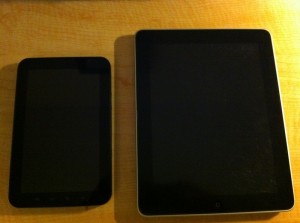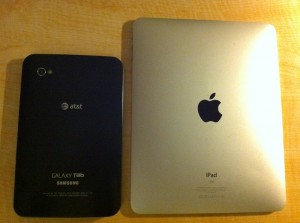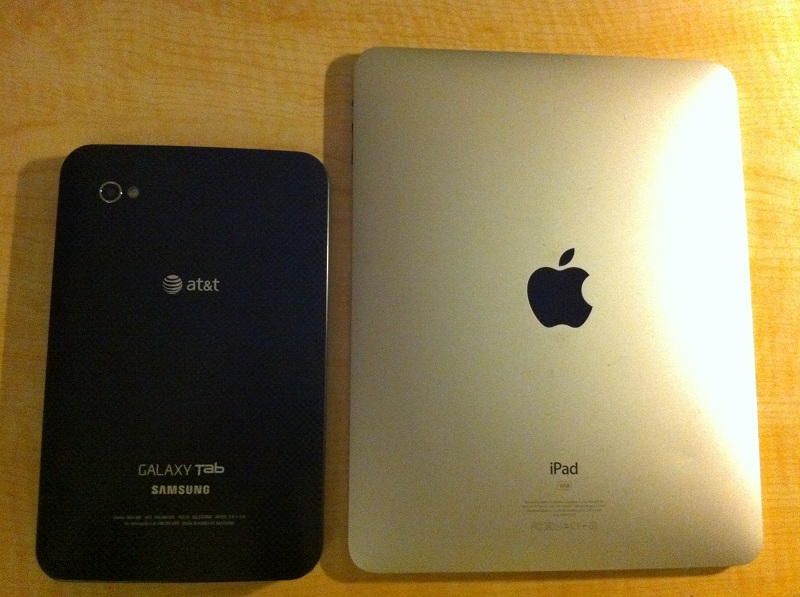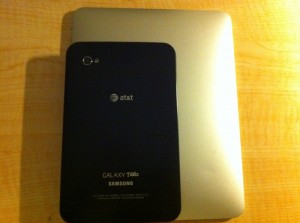 Manufacturer Specs:
iPad (AT&T, WI-FI+3G)
1024×768 px at 132ppi
9.7 inch IPS multi-touch display
Fingerprint-resistant oleophobic coating
Galaxy Tab (AT&T)
1024×600 px at ? ppi
7.0 inch WSVGA TFT with multi touch support
Gorilla Glass display
Processor, Memory and Connectivity
The Galaxy Tab sports a very similar processor as the iPad but does have a slight advantage in that it uses the Cortex A8 1Ghz CPU (Hummingbird, for those techies).  However, in terms of real world usage, they each feel very snappy. Lags are usually application related. Froyo 2.2 and iOS 4.2 both are solid mobile operating systems; however, iOS wins this one since it is more optimized for a tablet than Froyo/Android at the moment.  The Galaxy Tab wins the memory (RAM) game with 512MB RAM vs the iPad's 256MB.
In connectivity the Tab wins due to the fact that it does have a MicroSD slot.  Both versions being compared here have GPS, Bluetooth, Wi-Fi (B/G/N), and 3G.  The iPad however uses a microSIM while the Galaxy Tab uses a standard SIM. I use my iPad's data plan on my Tab with the help of a micro to normal sim adapter (around $10 at microsim-shop ).
In regards to connectivity with AT&T on the devices, I have noticed significant increases in download speed on the Tab vs the iPad. I am seeing around 2Mbs downloads where on my iPad I would get in the 1-1.5Mbs download range.  However, there is an apparent upload cap built into the Galaxy Tab's cell radio software. Rooted users can bypass this by flashing a different radio (which has obvious risks involved).
Both use similar cellular radios that are quad band GSM/EDGE  and triband UMTS/HSPA.  The Tab can do voice calls but it requires hacking the rom and having a sim card with a dataplan.  The AT&T Galaxy Tab is also SIM locked so you will have to call AT&T to get the code so you can use any GSM carrier in it.  This is like the iPad which is factory locked to AT&T.  Also, removing the SIM from the Tab will force the tablet to reboot.
The Galaxy Tab does come in all flavors of cell data MHz and standards (GSM and CDMA). You have to buy the Tab from your appropriate carrier since there is no Wifi only version of the Tab currently available. Rumors say release in early 2011.  The iPad also comes in several GSM versions; however, currently there is no USA CDMA version (ie Verizon, Sprint). Verizon will be getting an iPad w/CDMA in 2011).
Both devices accelerometers can be very sensitive.  I really miss the mute button being the screen lock for the iPad, but nonetheless, both devices screen orientation can be locked via menus. (For the Tab one can access it via Notification bar; for the iPad, it can be accessed via Multitasking bar).
Manufacturer Specs:
iPad (AT&T, WI-FI+3G)

Wi-Fi (802.11 a/b/g/n)
GPS
Bluetooth 2.1 + EDR
UMTS/HSDPA (850,1900,2100 MHz)
GSM/EDGE (850,900,1800,1900 MHz)
Accelerometer / Digital Compass
Ambient light sensor
Galaxy Tab (AT&T)
Wi-Fi (802.11 b/g/n)
GPS (w/A-GPS)
Bluetooth 3.0 + A2DP
UMTS/HSDPA (850,1900,2100 MHz)
GSM/EDGE (850,900,1800,1900 MHz)
Accelerometer / Digital Compass
Ambient light sensor
Battery and the Rest:
In regards to Battery life, I am impressed with the Galaxy Tab.  I have come to expect non Apple products battery ratings to be over inflated, but the Tab does a pretty good job.  I have only used it for about a week now, but it gets me easily through a whole day of various web browsing, music playing and gaming.  Movie playback will take a toll on the battery. I always use the Automatic brightness setting in Android.  The iPad inevitably wins the battery life crown and it still impresses me on how long it lasts.  Again, size may be part of it too with the iPad having a bigger battery.  Galaxy Tab has a 4000 mAH battery, iPad's battery mAH appears to still be unknown so I cannot comment on it.
The Galaxy Tab trumps the iPad in that it has both a normal rear facing camera (3.2mp) and a front facing camera for video chatting (1.3mp).  Photos and videos are ok and nothing superb. As the saying goes, often it's not essential to have a great camera, but just to have any camera to capture a moment.  Cameras will likely be added to the upcoming iPad 2.
Speakers on the Tab are pretty good for a tablet. They are placed on the bottom and are stereo versus the iPad's mono speaker.  Volume levels were about the same on each device. The Tab also offers a custom equalizer for its Music app when using headphones; a nice feature to finally see!
The iPad has the maximum storage options advantage at the moment but overall is limited to purchase options.  The Galaxy Tab has a microSDHC slot that supports up to 32GB cards (most likely even higher once they are made available). This does make it easy to pop a card in to look at photos or videos.
Manufacturer Specs:
iPad (AT&T, WI-FI+3G)

Lithium-ion Polymer Battery (10hours rated)
Onboard Storage Options: 16GB / 32GB / 64GB
No external media options
No Camera
MicroSIM Slot
Proprietary Connector Dock (ipod cable)
Galaxy Tab (AT&T)
4000mAH Lithium0-ion Battery
Onboard Storage Options: 16GB
microsSD slot
Standard SIM Slot
Proprietary Connector Dock (samsung galaxy cable)
Front Facing Camera (1.3MP)
Rear Facing Camera (3.2MP with LED Flash)
So there you have it, a quick hardware comparison of the new Samsung Galaxy Tab and the Apple iPad.  The Tab seems to really stay toe-to-toe with the iPad in regards to hardware and even takes the lead by having features the iPad does not.  As I am a portable device addict, the increased mobility of the device is a big winner for me. However, the Tab does feel more like a giant Nexus One than the iPad feels like a giant iPod Touch. The Tab is more modest step up in size vs the iPad's much larger size increase.
Yes, this is the iPad's first real tablet competitor.
Full Gallery Below:
Date: 12/29/2010
Updated: 1/21/2011