Podcasts are audio files that you can download to your portable devices. Most podcasts come in a series with episodes, similar to a TV show. You can subscribe to a Podcast to download new episodes automatically as they come out. You can listen to podcasts over an internet connection or download them to your device so that you can listen to them offline.
Subscribing to podcasts on your iPhone is easy and convenient, but they can start to hog your phone's memory if too many episodes are downloaded at a time. This can happen if you are subscribed to multiple podcasts, or if you do not play them regularly and the list of unplayed episodes starts to pile up. Read my article here to find out how to limit the number of downloads at a time, or follow the steps in this tutorial to delete manually those podcasts that you do not want to hear. Make sure also to follow my steps to delete downloaded podcasts after they have been played to free up valuable space on your device.
Delete Podcast Episodes
1.Tap the Podcasts icon to launch the app, or press and hold the home button and tell Siri "Open Podcasts."

2.Open up the podcast with episodes that you want to delete. Tap on Edit on the top of the page. You may need to scroll up a bit to see it.
3.Circles will appear to the left of each episode on the list. Tap these circles to select the ones you want to delete, and then hit Delete on the top of the screen. 
4.Hit Done in the upper right corner.
Automatically Delete Played Episodes
The Delete Played Episodes setting should be turned on by default, but you should check it if your played podcasts are not being deleted from your list after 24 hours.
1.From your home screen, go to Settings>Podcasts.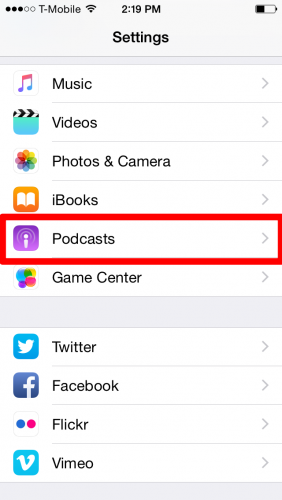 2.Toggle on the Delete Played Episodes option.