Youtube is an amazing platform owned by Google as you already know, in this article I will be showing you a feature on Youtube that changes the entire look of Youtube. This is a new feature that most people don't know and use. Stick around till the end of this post to find out how to enable youtube dark theme on desktop.
So, Before I get on with the steps on how to enable youtube dark theme on desktop I need to talk a little. Youtube has been around for a while putting smiles on the faces of its users. Personally, I don't think I can go a day without streaming a game walkthrough video or a video on singing or piano lessons. Youtube is fun and also addictive.
The creators of youtube "Google" decided to spice up the platform by adding a feature that enables users to change the theme from the default (white theme) to another theme with a completely different and cool look (Dark theme). Dark theme turns the light surfaces of the page dark, creating an experience ideal for night. You should try it out! Trust me when I say you would love this theme. Everybody I know uses the default white theme which at some point has become boring. (I'm probably saying this because I have literally fallen in love with the "dark theme".)
Youtube says' the dark theme is ideal at night, but hey! you can also use it in the daytime. It depends on you.
I did some research online and found that lots of articles on the web where either having tutorials that'll require using DEVtools and other long procedures. You don't have to stress yourself that much by going through that long process, the steps listed in this article are short and very easy to accomplish.
How to Enable Youtube Dark Theme
1. Go to Youtube.com on your desktop computer.
2. Log in if you haven't.
3. Click on your profile icon.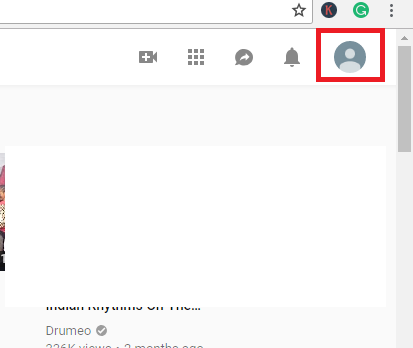 4. Click on Dark theme.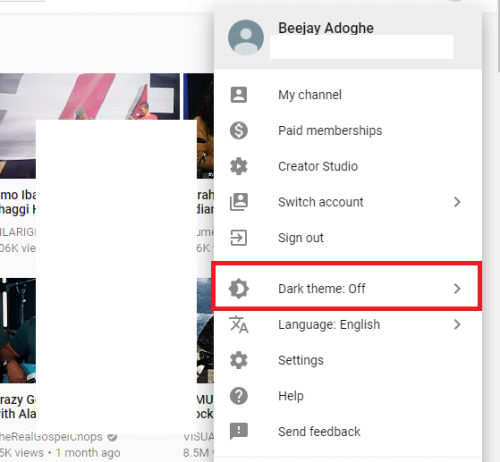 5. Toggle on the Dark theme button to enable youtube dark theme mode.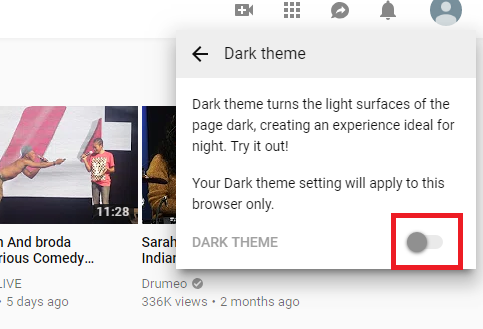 Note: After changing the look of your youtube theme to dark. Note that Your Dark theme setting will apply to the current browser you are using for Youtube. I haven't tried using Youtube dark theme on browsers like Firefox, UCbrowser, and others but I am very sure that it works on Google Chrome browser.
Alright folks, I hope this article has been of help to you. Thanks for stopping by.
Frequently Asked Questions And Answers
Q: Can I revert back to the white theme?
A: Yes! you can revert to the old white theme whenever you want to.
Q: I can't see the dark theme settings, what do I do?
A: You could try using the Google Chrome browser, It could be that your browser does not support this feature.
Here are some links you may like;
How To Change Google Assistant Voice
How to Change Google Search Region
How to Change Result Per Page on Google Search
How to Set Parental Controls on YouTube