The latest Windows update brought a lot of new and cool features for us to play with. Codenamed Redstone this update started rolling out for users a few weeks ago at which point all of those shiny new features because available for us. One of them is Ultimate Performance.

Basically, this is a power plan that Microsoft released without getting too many details on it, except it was only described a something that would give a boost to your machine. Do not confuse this with the High Performance power plan on your computer. That one amps up the hardware and you get more power, but Windows is still has some power saving settings that reduces the performance slightly. The Ultimate performance power plan goes to a 100. The sleep settings on your computer and hard dives are turned off, meaning that they will never sleep. Also, your CPU and GPU are set to work to the max.
Initially, this is only available to servers and workstations because those machines need as much computing power as they can get. Due to the power requirements it is not recommended to use this on a portable device such as a laptop or tablet because it will drain the battery much faster than usual. Instead, the ultimate performance power plan will come in handy for gamers or people that are using a software that requires a lot of CPU or GPU power.
Similarly to pretty much anything computer related in the past, where something was not available for everyone, there was a hack or a workaround. The same can be said here. Even though it is only available for workstations and server you can enable it on your computer as well.
How to enable Ultimate Performance on Windows 10
There is only one requirement for enabling the ultimate performance mode or power plan on your computer: you need to be running Windows 10 version 1803. You can check this by going into Settings, then System and About. If you are still running the previous version navigate to Update & Security to check for new updates. Alternatively, you can do a manual update by downloading the tool from Microsoft's website.
1.Click on the Windows icon on the left of the taskbar or hit the Windows key on your keyboard to bring up the start menu
2.Type in "cmd"
3.Right click on the result and click on "Run as administrator"
4.Once the command prompt starts paste in this command "powercfg -duplicatescheme e9a42b02-d5df-448d-aa00-03f14749eb61" without the quotes. Hit Enter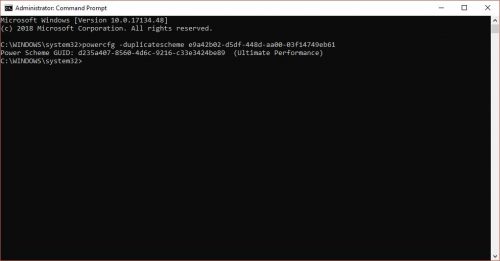 5.Close the command prompt window
6.Open up the start menu (same as step 1)
7.Type in "Control Panel" and click on the result
8.In the search bar on the top right corner type in "power"
9.From the search results page click on "Choose a power plan"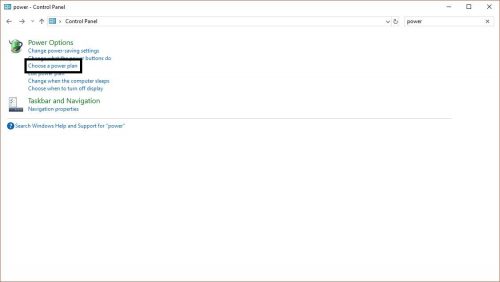 10.You will see only two power plans (by default). Below them click on "Show additional plans'
11.Under the additional plans section you will see two power plans high performance and ultimate performance. Click on the ultimate performance and close the window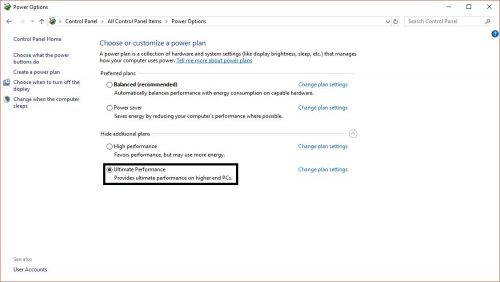 Now your computer will be running with full power. People running games or software that require a lot of computing or graphical power might see a slight performance boost. You will definitely see the boost if you run a benchmark on your computer. On the other hand, on a regular day to day usage users will not see any difference whatsoever. So if you are browsing the internet or working on documents on your computer you don't need to enable the ultimate performance mode.
How to disable Ultimate Performance on Windows 10
You have two ways to approach this. If you want to disable it temporarily, go to the power selection menu in the control panel and select another power plan. If you want to completely remove it, while in the power plan selection menu, first select another plan and then click on "Change plan settings" right next to Ultimate Performance plan and click on "Delete plan".
Frequently Asked Questions and Answers
Q: Can I get this mode on Windows 7?
A: No, this mode is only available for users that run Windows 10 build 1803
Q: I entered the command and I don't see the power plan in the control panel
A: Users are reporting that some systems don't support the ultimate performance mode