Uber is an upscaled, modern challenge to the world of transportation via taxis. Users can summon a car from any mobile device. No painful tips are required. Can Uber invade on the territories of taxi and cab transportation?
As I started to walk down to hotel lobby to leave for the airport this morning, I suddenly realized that I had no cash. Being a socially awkward nerd, the whole tipping people to call cabs and move bags has always been a little painful for me. Cashless, my pain had suddenly multiplied.
Considering Uber is now in San Francisco and NYC, I had been looking for an excuse to try to the service anyway. I quickly created an account on the uber.com website. I received a text message to confirm my cell number. I downloaded the iPhone application; an Android app is available as well.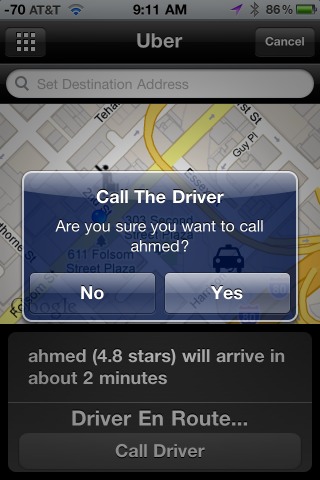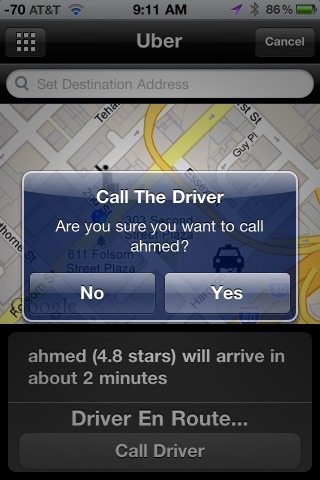 You can call a driver either by logging into mobile app or by sending a text message to the service. The application actually uses the GPS on the device to attempt to estimate your position. My AT&T service was poor in San Francisco so I was not surprised that the first estimation of my location was a half a block off.
Once you confirm your driver, you are given an estimation of the arrival time. My wait time was 10 minutes, and the estimation was perfect. The driver would later apologize and said that wait times were typically much quicker. Tracking his position in realtime on the map in the application was really slick. About a minute before his arrival, I received a text message that he would be arriving soon.
Despite being on a busy intersection, he pulled right up to me. Doors open, luggage loaded–we were off. I was worried he might not know my exact position, but the app has a "Call The Driver" option in case any problems occur.
Ahmed, my driver, was professional and helpful when I was quizzing about future trips to the area. The car was a typical black Lincoln town car. Amenities included passenger-controlled XM radio, climate control, water, and cell phone. Typical taxi drives are high speed, swerving inducers of motion sickness. This drive was efficient but careful.
The drive finished up with a handshake and help with unloading the luggage. No money, no tipping. Five minutes later I received an email with my bill. The trip does cost more than a taxi. Uber was $65 without a tip; the same route with a taxi is $36 plus your gratuity.
I have had the opportunity to use luxury car services in the past. Uber is basically taking this experience and adding the technology to make it more approachable and convenient to the public. In talking to Ahmed, it sounds like most of the Uber drivers are independent drivers that work through the Uber service to supplement their regular gigs.
Compared to a taxi, the price is more expensive. However, it is exactly what one would expect to pay for a luxury car and driver. More importantly, this socially awkward nerd got to skip the whole painful tipping process. Winner in my book.