In this article we do direct comparisons between the video production abilities of the iPhone 4 versus the BlackBerry Torch. The included video allows for direct A/B comparisons between the cameras of these two devices.
Resolution —
BlackBerry Torch: 640×480 (VGA)
iPhone 4: 1280×720 (HD 720)
Here is relative ratio of the video produced in image form: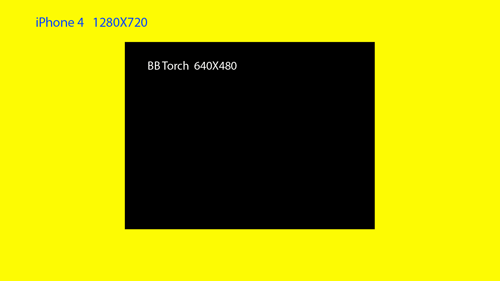 Analogous to megapixels with images, resolution is not the final word in video quality. Really the only way to compare the video quality is to compare them in real life situations. I recorded the following clips simultaneously with each device. I dropped the videos into iMovie one after another and labelled them appropriately. I suggest you watch the video at both low and high resolutions. I will give my impressions below.
Similiar to our photo comparisons, the Torch has a little less exposure and a little more contrast than the iPhone. I think preference here will differ from person to person. Color reproduction is similar.
The Torch's 24 frames per second versus the iPhone 4's 30 frames really makes a visual difference in how smooth the action appears.
The focus and acuity of each phone excelled at different times. For example, the iPhone never grabs focus when walking behind the boy. The BlackBerry focuses better there, but the lack of the Torch resolution becomes apparent when trying to read the text on the signs outside.
Feel free to add your thoughts.