Facebook: Change Group Icon
Posted December 16, 2012 by David Kirk in Facebook
The default icon for a Facebook group is boring and blends in with icons of the other groups. By customizing the icon, you can make your Facebook group standout in your user's left sidebar.
Although I belong to a lot of Facebook groups, the only group I really visit is the one where the Tech-Recipes crew hangs out. However, finding one particular group is difficult because all the groups default to the same generic icon. However, changing your group's icon is possible.
You will need to be an administrator in the group to customize the icon.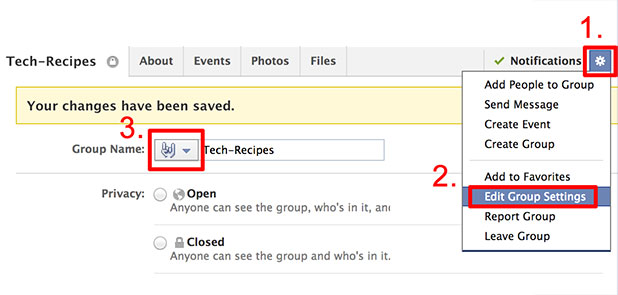 1. Within your group, click the Setting's gear in the right-hand corner.
2. Select Edit Group Settings.
3. Click the icon and a variety of alternative icons will appear. Select the icon you wish for your group.
4. Click the Save button at the bottom of the page.
Go back to your timeline and refresh the page. You should see your group's new icon in the left sidebar. Occasionally, there may be a brief delay as your changes are mirrored through Facebook's cache system.
David Kirk is one of the original founders of tech-recipes and is currently serving as editor-in-chief. Not only has he been crafting tutorials for over ten years, but in his other life he also enjoys taking care of critically ill patients as an ICU physician.
View more articles by David Kirk
The Conversation
Follow the reactions below and share your own thoughts.