Outlook 2013: Disable or Expand Message Preview
Posted July 26, 2012 by Lê Hoàng in Microsoft Outlook
Outlook displays one line of each email so that users can quickly preview and find the mail that they want. This useful feature, however, can reveal sensitive information inside the emails that you do not want others to see. If you need additional security, the email previews can be disabled. Conversely,many users like to expand the message preview so additional lines can be seen.
Once again the user must decide to balance between convenience and security. Beside the privacy settings which exist from the previous Outlook versions, Outlook 2013 let users disable the preview line of the message. On the other end of the spectrum, viewing more lines of each email allows the user to quickly scan and parse a busy inbox.
1. Launch Outlook 2013.
2. Switch to the View tab at the top of the window to continue.

3. In the View tab, find the Message Preview option and click on it to expand the menu. By default, this option is set to 1 Line which means one line of the email can be seen without opening it. If you would like to disable this feature, choose Off. If you want to preview more content of the email, choose either 2 Lines or 3 Lines option.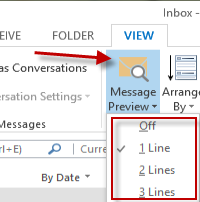 4. Outlook will ask whether you want to apply the change to the current folder or all mailboxes. Just choose the one you wish and then the process will begin.

5. When the process is completed, you will notice that the preview line is altered.
As an example, below are the screenshots of how the emails look like before and after disabling the message preview.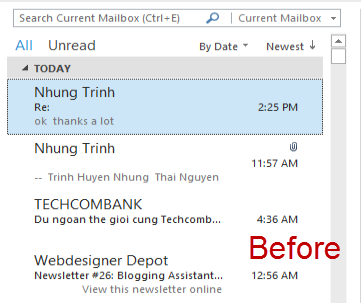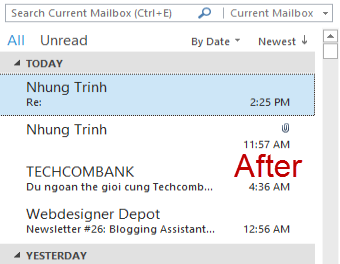 6. Later, if you decide to switch or change the setting, just repeat the above steps and choose another option in the Message Preview setting.
When not creating exciting new Android games, Lê Hoàng is here crafting tutorials, tweaks, and fixes for your enjoyment.
View more articles by Lê Hoàng
The Conversation
Follow the reactions below and share your own thoughts.