Demonstration of Google's New Mobile Weather Slider (with Video)
Posted February 10, 2011 by David Kirk in Google
Now with you search google from your phone for weather updates, you will be greetings with a redesigned, beautiful display. A slider is included that when dragged shows hourly weather predictions. Continue reading for a brief video demo of this new google mobile weather display.
From your mobile device, go to google search. Type in the word "weather" and then your zip code.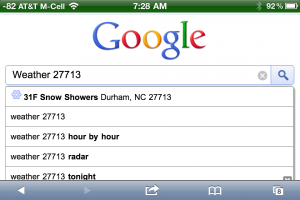 Once you select the search, google's new mobile weather slider will appear. Moving the slider left to right will show you the weather prediction hours in advance. The screen also lightens and darkens based on the selected time. Very neat, very useful, and very pretty.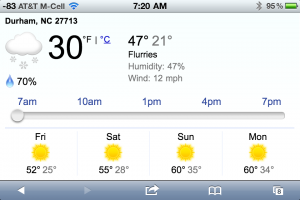 I recorded a quick youtube video demo that can be viewed at the top of this tutorial.
David Kirk is one of the original founders of tech-recipes and is currently serving as editor-in-chief. Not only has he been crafting tutorials for over ten years, but in his other life he also enjoys taking care of critically ill patients as an ICU physician.
View more articles by David Kirk
The Conversation
Follow the reactions below and share your own thoughts.