If you have a video that you want to share with the public but you also want to keep the people in the video anonymous, consider blurring their faces. This tutorial will show you how to do it in YouTube without any third-party applications.
Before we proceed, please keep in mind that although the feature is offered by YouTube, you should not rely on it all the time. There may be faces or frames that are not blurred, so make sure to review the final video before publishing it to the internet.
1. Log in to your YouTube account.
2. Once you have logged in, click on your account name at the top right of the window to expand the menu, and then choose Video Manager from the menu list.
3. In the Video Manager window, find the video in which you want to blur the faces, click the arrow next to the Edit button, and choose Enhancements from the menu.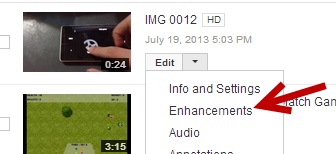 4. You will then be taken to the Enhancements section. To find the Blur All Faces feature, click on the Additional features button. Click on the Apply button to process. Please note that there may be faces or frames which will not be blurred, so make sure to view that video again once it is processed completely. If you are not satisfied with the results, it is recommended to set the video's privacy to private to keep the identities of the people in the video safe.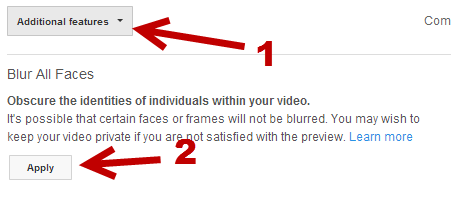 5. When you click the Apply button, a small option will appear next to it which reads Delete the original video. If you want to keep the original file, make sure to uncheck this option, and click the Save As button to save the blurred version as a new copy as blurred videos cannot be reverted.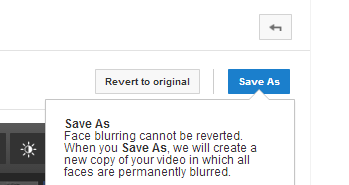 6. You will then be taken to the video player page. However, the video is still being processed, so you may not be able to view it yet. In the meantime, you can rename the video, and set the privacy mode for the new and the original video.