Twitter lets you turn off retweets from one user at a time, but not all at once. Turning Retweets all off manually is a pain and can be very discouraging. Mr. Michael Hertzberg wrote a script that automatically "Turn off Retweets" on everyone you follow. This is a really cool feature and has eased Twitter users off the stress of manually turning off retweets on Twitter.
Twitter, an American online news and social networking service on which users post and interact with messages known as "tweets". Tweets (messages) were originally restricted to 140 characters, but on November 7, 2017, this limit was doubled for all languages except Japanese, Korean, and Chinese. Twitter records over 330 million monthly active users, about a four percent increase over last year, the number of Twitter users keeps growing because of Twitter's quality service and interesting new features that keep it cool and swift.
Let me enlighten you more on the 'turn off Retweets on Twitter' feature.
First off, you need to understand what Retweet on Twitter is.
What are Retweets on Twitter?
Twitter support describes Retweets as re-posting of a Tweet. Twitter's Retweet feature helps you and others quickly share that Tweet with all of your followers. You can Retweet your own Tweets or Tweets from someone else that you would love to share. Sometimes people type "RT" at the beginning of a Tweet to indicate that they are re-posting someone else's content.
Retweets have proven to be very useful and easy, why would you need to re-type a tweet (message) you would love to share when someone else has already posted it on Twitter? This is where Retweets come to play.
Not everyone is comfortable with the Retweet feature, the good news is that you can turn off Retweets on Twitter, Instead of turning off retweets for each account, you can mute retweets through the Twitter settings.
It's easy, it's fast, the good part is that it doesn't mess with existing settings (accounts you already turned retweets off). If you use the official apps it works across all of them. It can be done through the browser or an app. It removes native and original retweets.
Just in case you have decided to turn of Retweets on Twitter, here is how to;
 How to Turn off Retweets on Twitter
1. Log into your Twitter account.
2. Search the contact you want to turn off Retweets.
3. Click on the vertically arranged three dots on the person's profile.
4. Click Turn off Retweets.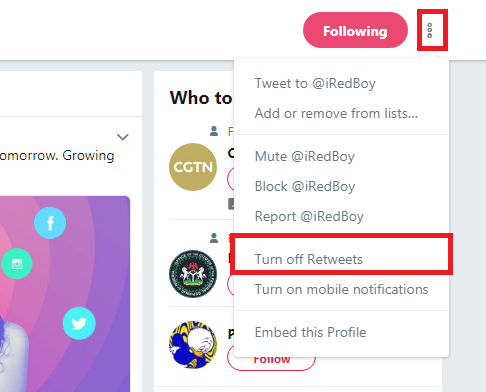 You would be notified immediately the Retweet has been muted. Also if you are doing the reverse, that is turning on the Retweet. You would also get a notification.
Frequently Asked Questions and Answers
Q: How can I Turn On Retweets on twitter?
A: It's very simple, all you need do is follow the steps and click Turn on Retweets.
Q: Does the Turn off Retweets on Twitter affect my general settings?
A: No, the turn off Retweet on Twitter, like I earlier stated does not alter any settings.