Twitter is an amazing platform that helps its users connect with people, keep up with the latest news, and sometimes argue directly with high ranking politicians. But at some point, it can really be annoying especially when some interactions turn personal leaving you with no choice than to quit the platform. Hey, you don't need to go that far, I'm going to show you in today's article How To Block Someone On Twitter and that will more likely be the best way to end your agitations amicably without stress.
So, basically, there isn't so much to say about blocking someone on twitter, but SEO (Search Engine Optimization) has compelled me to write and write and write. 
Block is a feature that helps you control how you interact with other accounts on Twitter. This feature helps users in restricting specific accounts from contacting them, seeing their Tweets, and following them.
What's the aim of this post? At the end of this article, you should be able to comfortably block someone on twitter with 0% stress.
Moving on with the guide on How To Block Someone On Twitter, I want to let you know what happens when you block someone on twitter before proceeding with the steps.
When you block someone on Twitter, this literally means they will not be able to follow you anymore, and you will no longer follow them as well. The outcome of this is that direct messages will be stopped and their comments will not appear in your feed any longer. But you might still see comments if other people you follow share them.
Now that you have gotten a hang what happens when you block a Twitter user, let's proceed with the steps on Blocking Someone On Twitter. Follow carefully. It's short and simple.
How To Block Someone On Twitter
1. Log into your Twitter account.
2. Search for or go to the Twitter account of the person you want to block.
3. Tap on the Gear button and select block from the menu.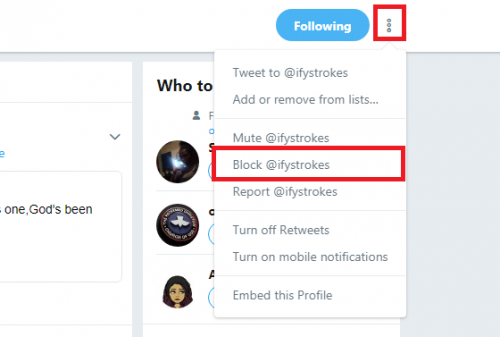 4. Tap on Block.
There you a have the guides on today's tutorial ''How To Block Someone On Twitter". That was easy right?
If you have successfully done that, then you will discover that the person will not be able to see your tweets on his or her timeline, you also won't be able to see theirs too as I said earlier. They also will not be able to follow you.
And if your Twitter profile is public, all someone has to do is look out for your name and go to your profile to see your tweets, so be sure you have lock your account if you want some privacy.
You can drop your question and contributions regarding this post in the comment section below.
Frequently Asked Questions And Answers
Q: If I block someone on Twitter, will the person know?
A: The answer is the person you block will not know you've done that unless they visit your profile.
Q: If I regret my decision, what should I do?

A: Just simply repeat step 1 and click the button that says Blocked, and then hit Unblock.