With Twitter's new revamped security dashboard, now available for all its 303 million users all over the world, there is no perfect time to run a quick check of your account security than right now, and checking up on all the apps and devices in which your Twitter account is log in to is one major part of that. Although most people prefer changing their twitter password, as a way to tackle this security problem or block access on any other devices. But, using the Twitter "log out from our devices" is a less time consuming and it can also assist you in tackling this problem without having to change that password which you are already familiar with. Here's how to Log Out Of Twitter Account On All Devices At Once.
The Twitter "log out from all devices" option comes with a lot of benefits for its users. First of all, it helps you in making sure that, no one else has access to your twitter account, as this can lead to various discomforting and destructive activities in your Twitter account. Secondly, it gives you full access to your account, in the sense that, you can decide who to follow and who not to follow, the post to like, etc. Having your Twitter account logged in on various devices could be very detrimental as someone else might decide to explore your account and follow who he/she wants to follow and like the post he/she wants to like without getting any permission from you.
For those twitter users who desperately want to log out their Twitter account from all other devices at once, but do not know how to go about it, today's post is for you. In this post, I will give you a step-by-step guide on how to log out your Twitter from all other devices you once logged in to at once, without having to go through the stress of changing your Twitter password.
How To Log Out Of Twitter Account On All Devices At Once
1. Login to your Twitter account.
2. Click on your profile photo.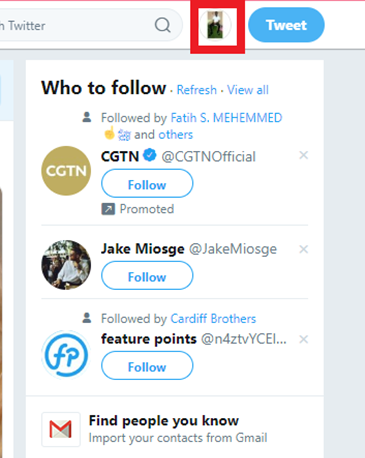 3. Click on settings and privacy.
4. Click on Apps and devices.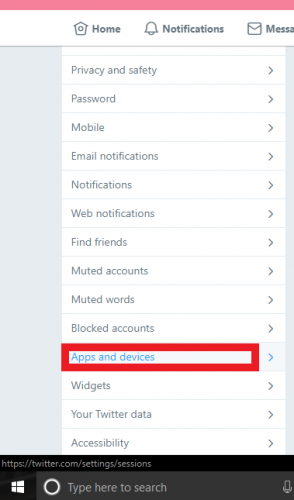 5. Click on Log out all.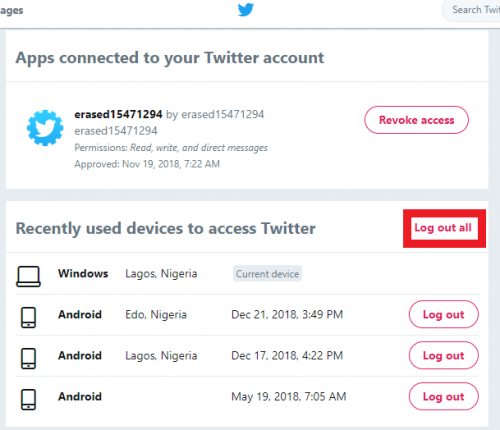 Conclusion
The pros that come with this Twitter feature definitely outweigh the cons. In case you have been looking for a way to log out your Twitter, but don't know how then I am certain the steps listed above should help you do that with ease. Turn on your PC and try this now! I will be glad to get comments all those who have successfully done this. Thanks for reading!
Frequently asked questions
Q: Can I really rely on this feature to log out my Twitter account from all devices?
Yes! The Twitter log out from all devices option is 100% reliable. It logs out your account from every single device you have once logged in to, except the one you are currently using. To confirm this, you can go back to those devices and open the Twitter app to check if your account is still logged in.
Here are some links you may find useful;
How To Stop Video Autoplay On Twitter
How To Send A Direct Message To Someone On Twitter
How To Block Someone On Twitter
How To Change Country Settings On Twitter