This Tech-Recipe is inspired by what happened yesterday. So when I published a new article, I saw that my previous article didn't have a read more tag. I quickly hit the edit button. While I was adding the read more tag, I accidentally deleted the rest of the article and hit update.How to Restore a WORDPRESS Post If You Accidentally Hit Update is a quick and easy way of doing so.
Normally when you hit update, the previous article is replaced by the new edit. I tried searching the article on the internet, in the meta-descriptions the same content was appearing. But when I was opening it in WordPress editor, it didn't show any content. This was very worrisome.
There's an undo button but it doesn't work once you have hit the update button. There were a few solutions on the internet like you can only do it by updating the whole blog from a backup.
If you haven't hit update then it's easy to go back and format the rest but once you hit update there's only one easy way to restore it.
How to Restore a WORDPRESS Post If You Accidentally Hit Update
Step-by-Step Tutorial
1.Edit the article.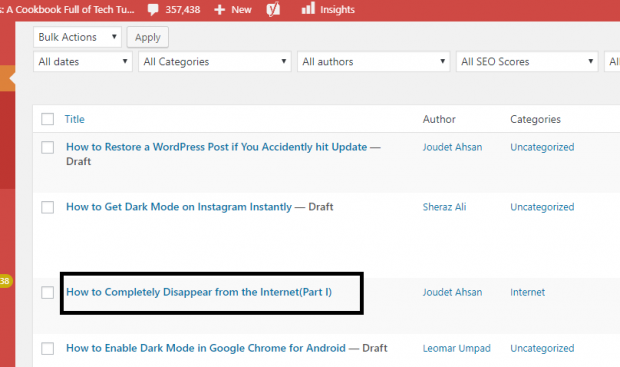 2. Click revisions.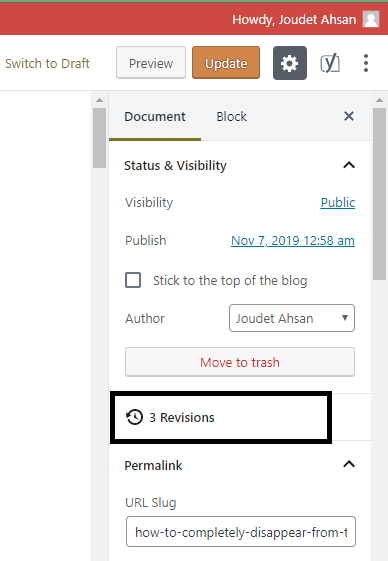 3. Slide the bar to compare previous versions

4. Hit restore

5. Continue editing
Checkout other TECH-RECIPES:
Top 5 Free WordPress Hosting for 2018
How to Change a WordPress Blog Address
Show Content at the End of a WordPress Article
SEO Content Creator, a Computer Scientist in making and someone who
sucks at writing bios.