Even if you have deleted the emails in your Hotmail Deleted folder, those emails can still be recovered. Thus, if your account is hacked, the hacker is still able to access your sensitive deleted emails. For stronger security, many users will not want their deleted emails to recoverable. Fortunately, this task can be accomplished by changing the Hotmail settings.
Unlike other emails services, Hotmail allows users to recover emails even if the messages are trashed from the Deleted folder. Leaving this recover email feature enabled can place you at risk if someone gains access to your account and recovers those sensitive emails.

Following these steps will allow you to delete the emails permanently.
1. Log in to your Hotmail account. With the default Hotmail settings, you may be redirected to the Windows live page instead of your inbox, and you may have to click the Hotmail button at the top to jump to your inbox.

2. When you see the Hotmail inbox screen, click the Options button at the top right and choose More options from the expanded menu.
3. The Options screen appears. Find the Customizing Hotmail section and choose Advanced privacy settings.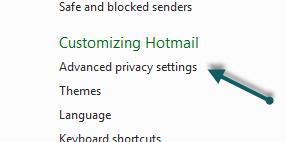 4. You will notice the next screen has a Deleted messages option. By default, it is set to Let me recover deleted messages. To make emails unrecoverable, switch the option to Don't let me recover deleted messages – once they leave the Deleted folder, don't give me a link to get them back.

5. Hit the Save button at the bottom of the page and then return to the inbox.