Well, now, you finally have a use for those funky colored glasses! These directions show you how to use Google Street View in 3D!
You only need three things to have an incredible, trippy experience with Google Street View. First, master the arrow keys moving you forward, backward, and side to side. Next, practice using the W-A-S-P keys to virtually look around. Finally, rock out the experience with 3D!
1. Navigate somewhere using Google Maps and turn on Google Street View. Here's a place on the Golden Gate Bridge if you need an example.
2. Start moving around in street view to be sure that window has focus.
3. Put on your Blue/Red 3D glasses.
4. Press the 3 key while in street view to active 3d mode.
Here is how the mode looks enabled and disabled. If you don't have 3d glasses, you'll notice the color change but you will not the 3d effect, obviously.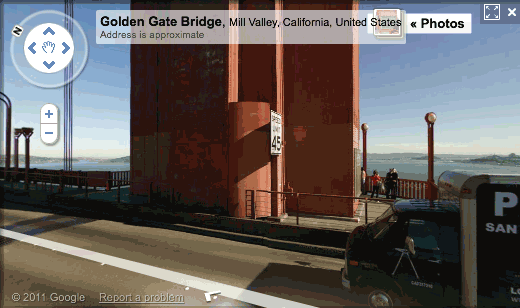 Be aware that all 3d glasses will not work. You'll have to use the correct color combination.