For years, Google's services are the most widespread and most commonly used services on the internet. As of 2016 Gmail, an email service provided by Google, has over 1 billion users. Today that number is probably closer to 1.5 billion.

Google's Inbox release a few years back was a good solution for people that are interested in productivity and that want to have many options integrated in the email client itself, but for most users the good old Gmail works just fine.
"Old" was the problem that Gmail had. Design wise is was outdated and Google has been working on a overhaul with a some additional functionality, integration improvements and security. A few weeks ago they officially released the new design to the public.
New features on Gmail
The previous layout on Gmail was all about clicking. You had to click here to do that, click there to see that etc. Now, Gmail allows you to get additional options jut by hovering the mouse pointer over the email. On the far right you will see 4 options: Archive, Delete, Mark as unread and Snooze. The first 3 are already familiar, but the 4th one, Snooze, Enables you to hide a certain email until you decide to have it reappear. Click the button and select the date and the email will not be in your inbox until the day comes. If you want to review your snoozed emails you can see all of them from the "Snoozed" folder on the left panel. Additionally, if you get an invite you can RSVP using the hover option, they will be visible once you get an invite.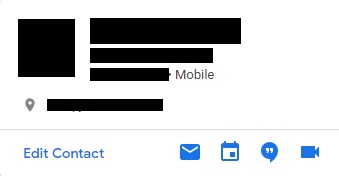 Apart from the shiny new look, there are some visual improvement in regard to attachments. Now all of the attachments are visible right below the first line of text from the email from where you can open them or download. Depending on the size of the screen you will not be able to see all of them, instead after the first few you will see a number showing how many more attachments there are. Clicking it will open up the email.

If you ever used the Gmail app or Inbox on your smartphone you know that Google's AI is integrated and provides you with suggestions for answers, so that you don't have to type it in manually. It will not be able to compile long emails, but a few short answers will definitely be of help.
As mentioned in the introduction, Gmail also has a beefed up security. This doesn't mean that previously it was insecure, but now the security warnings are simpler and clearer. Also, they are very hard to miss, it's basically a big red stripe informing you of a risky email.
Since Gmail is only one of the services that Google offers, they decided to bring them closer together. On the right panel you have 3 icons: Calendar, Keep and Tasks. Clicking on each one of them will expand a panel where you can see your agenda, notes and tasks. The Tasks panel allows you to drag and drop an email from your inbox and place it in the Tasks section.
Apart from the features that are already available, there are a few that Gmail will receive in the near future. Google's AI will be able to remind you of an email that you forgot to reply to, that you really should have. It will also be able to recommend newsletters that you should unsubscribe from.
How to switch to the new Gmail interface
1.Log in to your Gmail account
2.On the top right corner click on the gear icon
3.Click on "Try the new Gmail"
4.It will take a few seconds to load the new interface, after which you will be greeted with a welcome window. Click "Next"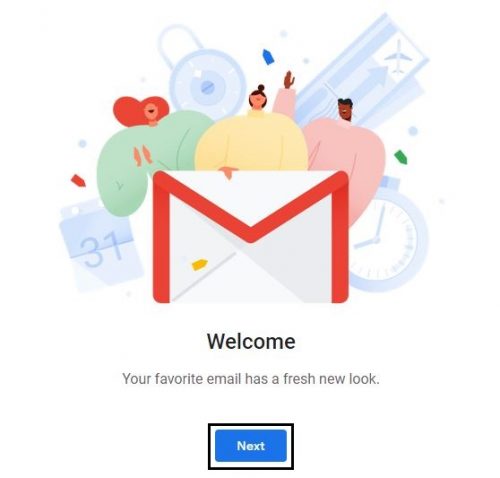 5.On the second section you can select the layout of the emails. Clicking through the option will change the preview so that you can visually see the layout. Once selected, click "OK"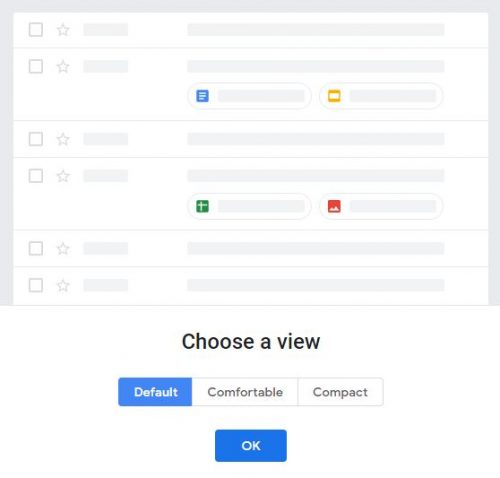 This update was something that Gmail needed for a long time Google took their time and done it correctly. As mentioned, new features await and Google will certainly surprise with other features that are not announced.
Frequently Asked Questions and Answers
Q: I don't see the option to try the new Gmail. How can I enable it?
A: There are two reasons for this. The new interface is not yet rolled out for all users, so you can check from time to time to see if you got it. If you are part of an organization, you will need to ask your administrator to enable it. If your administrator doesn't have the option, it is probably because it is not yet rolled out for your organization.
Q: Can I revert back to the old interface?
A: Yes. Click on the gear icon in the top right corner and click on "Go back to classic Gmail". It is not confirmed if this option will be available forever or just until users get comfortable with the updated interface.
Q: Can I change the layout?
A: Yes. Click on the gear icon in the top right corner and click on "Change density"and select the layout that you want.