Google Chrome saves your browsing history, this browsing history can be saved for as long as possible and could sometimes be the cause of a laggy system. If your system has become laggy it may be time to delete history from Google Chrome, and if you want to hide your browsing history from prying eyes, this post will teach you how to.
Hello there, here's yet another amazing article on our cookbook full of tech tutorials, today I will show you how to delete history from Google Chrome. A lot of people love and don't joke with their privacy while browsing. Let's say you went to some gambling site or you recently visited a site with graphic content and you want to keep it private for your eyes only.
I personally clear browsers because of two reasons, the first is to protect my information and the second is to free up space on my browser. One of the main causes of a laggy system is overfilled history. Bookmarks and other factors can also be linked to slow systems but in this post, I will basically be talking about browser history.
This post will teach you how you can delete History from Google Chrome. Now, most persons will read this post and be like "why would I want to delete history from Google chrome ?" Well, there are so many reasons really, it is not actually bent on hiding what you do online from friends or your family. It is actually quite bigger than that.
Did you know that if you don't clear your browser tab you could actually be a victim? Yeah, I know you would ask, how can I be a victim?. If you asked that question then there's so much you don't know.
An incident happened some years ago, 2013 to be precise, data associated with over one billion yahoo users was stolen, another incident was said to have occurred in 2015/2016 when hackers were able to steal and forge cookies related to Yahoo users and gain access to Yahoo users account without the use of passwords.
Never heard of it?  Shocking right? Yeah, I know.
You see, cookies are actually a tool that along with browsing history aids browsers like Google Chrome to speed up users browsing sessions. That's why most times you turn on your computer and try to log in a page and the page opens without requesting for a password.
Okay, I know I have strayed away a bit and I'm talking about "cookies", but then you must agree with me that this is valuable information. Right? At least, you should now know how important it is to clear history and cookies on your Google Chrome browser. This also applies to any other browser.
So, after taking you on a roller coaster ride it's time to cut to the chase and go back to the main topic for today "how to delete history on Google Chrome".
Ready? Let's go.
Okay, I thought about two people, PC users, and Android users. I will show you how to delete Google Chrome history on both platforms.
How to delete history from Google Chrome on PC
1. Open Google Chrome on your Computer.
2. Click on the 3 dots (utility button).

3. Click on settings.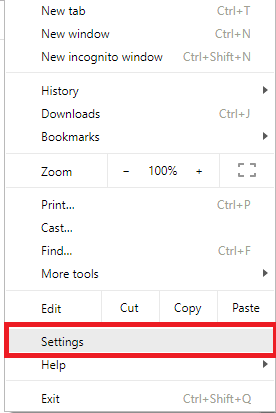 4. Scroll down and click on Advance.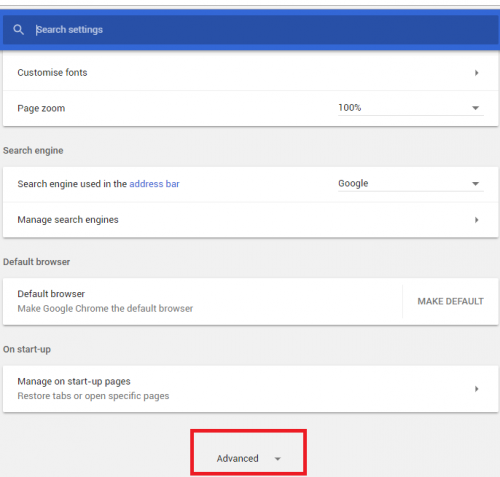 5. Scroll down and click on Clear browsing data.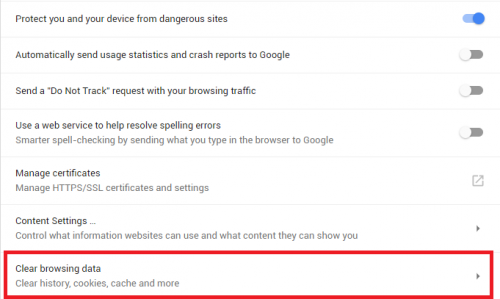 6. Untick other items and tick only Browsing history.
7. Finally, Click on clear browsing data.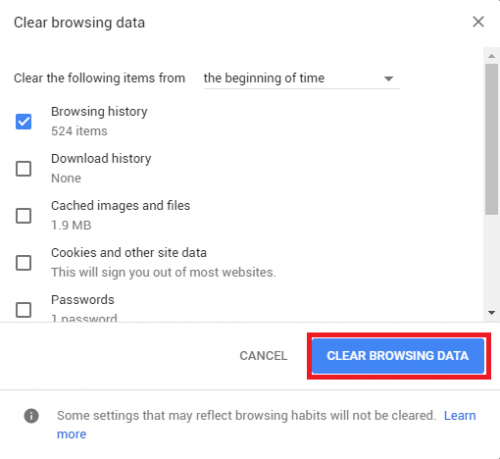 Now, you'd agree with me that there are so many options and things to clear on the "clear browsing data" page. Simply select any of the items that you would want to clear. For example, download history will clear all your downloads from Google chrome, Autofill form data will clear all your form fill suggestions. If you clear this Google chrome won't suggest an entry for you till it saves new ones.
Another thing to consider is where you want to clear history from. You have the option of clearing from the beginning of time, the last four weeks, the past week, the past day and the past hour. If you select any of the timing options, your history will be cleared based on what you chose.
But hey! you have got to be careful and know what you are about to delete so you don't delete stuff that would probably bring regrets in the future. Don't just go ahead to tick all the boxes and hit the clear button. Understand the options before clearing.
Moving on
How to delete history from Google Chrome on Android
1. Open Google Chrome on your Android device.
2. Tap on the 3 dots at the right.

3. Tap on history.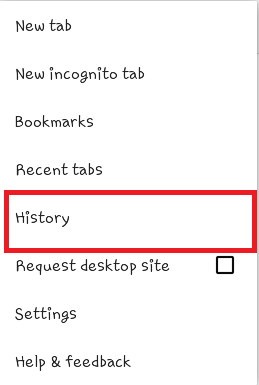 4. Tap on clear browsing data.

5. untick everything else and tick "clear browsing history".
6. Finally, tap on clear.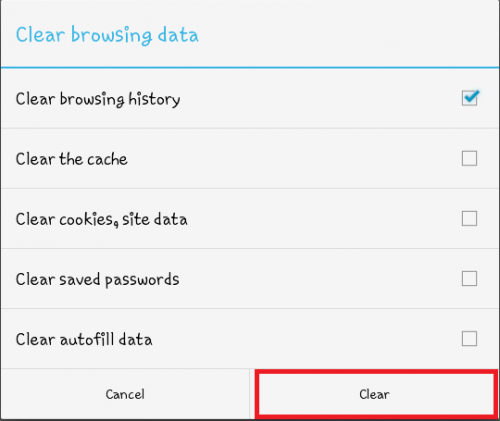 Some Reasons Why it is a Good Idea to Delete History From Google Chrome
When you delete your browsing history you make it difficult for websites or other institutions to track you.
Deleting browsing history speeds up your web browsing.
If you used a public computer, clearing the browser history ensures that no one keeps track of what you have been doing.
So, there you have it, if perhaps you encounter any issue trying to delete history from Google Chrome, leave a comment and we will be of help.