In order to provide a more social experience, Google has made it easier for users to send email messages to other Google+ users without even knowing their email addresses. While this feature can be convenient in some cases, it can also be a nuisance for many because of the spam messages that reach their private inboxes. Luckily, there is a way to disable this feature.
In the past, it was only possible to send messages to Google+ users from their profile pages. However, a recent change has made it possible for anyone to send you an email right from Gmail as you will now be a suggested recipient in the recipient field. Messages from people in your circle will be delivered straight to your primary inbox while email messages from others will be kept in the social category if you have previously enabled it in your inbox.
Although your email address is not revealed if you decide not to reply to the stranger, it is still a good idea to disable this feature to prevent unnecessary messages from strangers from getting to your private inbox.
Here is how you can turn it off:
1. Sign in to your Gmail account.
2. Once your inbox is loaded, click the small gear icon at the top right of the page, and choose Settings from the menu.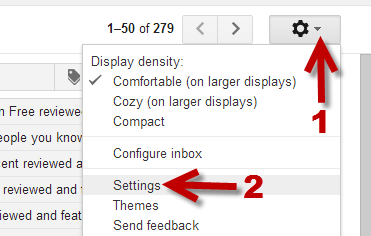 3. In the Settings page, make sure that you are in the General section, and scroll down the list until you find the Email via Google+ option. In the drop-down menu, you will find four options that can be used to limit the type of users that can send you email. Available options are as follows: Anyone on Google+ (default), Extended Circles, Circles and No one.
To prevent strangers from emailing you, choose No one.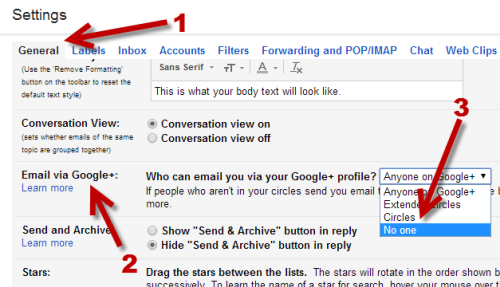 4. Scroll down to the bottom of the page, and click Save changes. You will then be taken back to inbox view.